Banks, Developers Sink as China Caps Loans to Curb Risk
(Bloomberg) -- Shares of Chinese banks and developers tumbled on Monday after regulators made an unprecedented move to cap loans for the real estate sector, the latest effort to snuff out systemic risks.
The CSI 300 Financials Index dropped 1.2%, while the gauge of Shanghai-listed property developers fell 2.3% to the lowest in six months.
Under new rules, the nation's largest state-owned lenders must trim their loan exposure to the property sector to 40% or less. Banks' mortgage lending should be no more than 32.5% of their outstanding credit, regulators said in a joint statement last week. Those exceeding the caps will have a grace period of four years to meet the requirements.
The curbs follow a series of property crackdowns, underscoring the government's determination to control risks in the bubble-prone sector. It's done little to dampen interest, as China's home prices have been rising every month since mid 2015, and most lately propelled by global monetary easing policies amid the pandemic.
Among the most hit by the new rules include Bank of Chengdu Co., which fell 8.1%, leading the retreat. China Evergrande Group closed 5.1% lower in Hong Kong.
Jefferies Group LLC estimated that China Merchants Bank will be the biggest potential victim among lenders for exceeding the loan cap by the widest margin. It remained positive on Hong Kong-listed Chinese bank shares.
Last year, China's housing watchdog and central bank asked 12 developers including China Evergrande Group, Sunac China Holdings Ltd. and China Vanke Co. to report their financing, total debts and business data on the 15th of every month to monitor their health.
New home prices rose by 0.12% in November, the slowest pace since February, after wider property curbs cooled demand.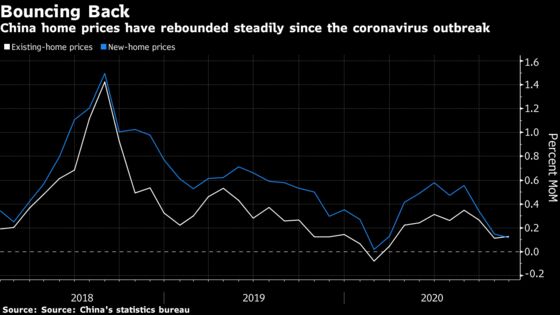 "The new policy is in line with the direction of strengthening supervision and preventing bubbles," said Huang Chengyu, an investment manager at China Cinda (HK) Holdings Co. "That will further dampen investor sentiment toward real estate stocks."
Banks will be put into five categories and be subject to different ceilings based on their loans to developers and home buyers. Those failing to comply will face additional capital charges, according to the statement.
With assistance from Bloomberg