China 2025 Plan Remains a Stumbling Block as Trump Meeting Looms
(Bloomberg) -- China's state-sponsored push to dominate technologies of the future is one of the biggest stumbling blocks to prospects for resolution to the U.S. trade war.
This story is part of the The New Economy podcast series. You can listen to the episode here
Officials from both sides are pessimistic about chances for a breakthrough when Donald Trump and Xi Jinping meet on the sidelines of the Group of 20 summit in Buenos Aires on Nov. 30-Dec. 1. While Trump is still dangling the threat of additional levies, Xi is digging in for a protracted conflict by cushioning the impact on growth and showing no signs he's willing to compromise plans to strengthen his nation's technological prowess.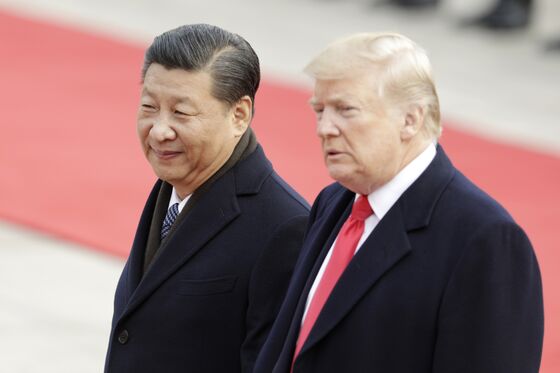 For Xi, shedding reliance on old smokestack industries and dominating newer, cleaner technologies is central to his pledge to create a moderately prosperous society. Trump and his team of trade hawks want to maintain America's economic preeminence, and feel they have the upper hand: "We have the economic advantage right now," Larry Kudlow, the head of Trump's National Economic Council, said in a recent speech.
Officials in Beijing are playing a longer game. While they have sought to downplay the significance of the Made in China 2025 plan to dominate industries from robotics to new-energy vehicles and aerospace and said it's open to foreign firms too, they've shown no willingness to abandon the goals.
Flying below the radar is an unofficial document called 'The Made in China 2025 Major Technical Road Map,' better known as the Green Book after the color of its original cover. Whereas the official Made in China 2025 plan has no targets for Chinese companies to seize domestic and global market share and even says implementation must be dominated by markets, the Green Book's 296 pages are full of goals.
Industry

Domestic Market
Share 2025 (%)

Agricultural machinery
95
New-energy vehicles
90
Mobile communication equipment
80
Industrial robots
70

Global Market
Share 2025 (%)

Integrated circuits
56
General purpose airplanes
40
China says the targets are non-binding and unofficial. It is committed to ensuring the Made in China 2025 plan is applied equally to local and foreign companies, Minister for Industry and Information Technology Miao Wei wrote in an April article in the state-run China Daily newspaper. The ministry didn't respond to faxed questions seeking comments on the Green Book.
Because of the targets, foreign companies in industries including medical devices and advanced agricultural equipment -- both priority industries in the Made in China 2025 plan -- may already be losing business, says the U.S.-China Business Council.
Read More Trade War Coverage..
Click here for all the details from this year's Canton Fair
Read Mohamed El-Erian on what China's strategy should be
Bloomberg Economics' collection of trade war analysis
China is banking on its dominance of supply chains
China is not alone in supporting its industries. Industrial policy was central to Japan's rapid growth in the 1970s and 1980s and the Made in China 2025 plan itself draws heavily from Germany's "Industry 4.0 Plan" adopted in 2013. In the U.S., breakthroughs in semiconductors, nuclear power, imaging technology and others were all aided by industrial policy.
Even still, China's 2025 plan was a game changer for economic relations with America and remains a sticking point.
"It was kind of a lightning rod that really made clear what people were concerned about," said Timothy Stratford, managing partner of Covington & ­Burling LLP's Beijing office and a ­former assistant U.S. trade representative. "The breadth and the specificity seemed to put the last nail in the coffin."
With assistance from Editorial Board