Britain's Property Hotspot Is a Bristol Suburb, Rightmove Says
Britain's Property Hotspot Is a Bristol Suburb, Rightmove Says
An area of Bristol in South West England was the hottest property location in Britain this year, according to Rightmove.
Easton, northeast of Bristol city center, stood out in a buoyant national market with more than eight in 10 properties for sale being sold subject to contract, the property website said in a report published Thursday. In total, four of the top 10 sellers' markets were in or around the city.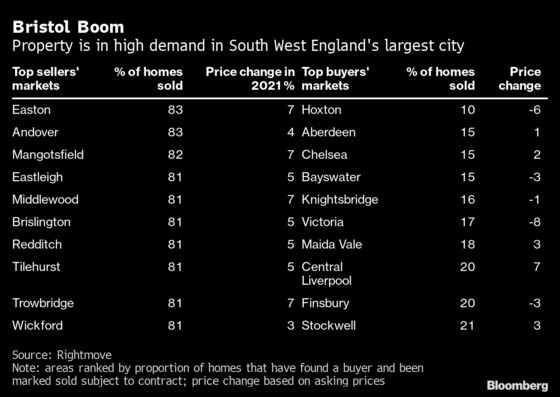 Bristol, an aerospace and technology hub around 120 miles (193 kilometers) west of London, saw strong demand increase during the pandemic as thousands embraced new freedoms to work from home. 
By contrast, London dominated the list of areas with the weakest demand. In Hoxton, close to the capital's financial district, nine out of 10 homes put up for sale on Rightmove this year are still available. 
The divergence may in part reflect affordability constraints. The average asking price in Hoxton is almost 625,000 pounds (826,000), more than double that in Easton.
"Houses in the 250,000 pounds or below bracket were the best performing for sellers this year, with more than three quarters finding a buyer and being marked SSTC," Rightmove said. For apartments valued at 1 million pounds or more, the figure was just 14%.