Three Big Banks Say It's Time to Hedge Against Emerging-Market Risk
(Bloomberg) -- The time has come for investors to consider protecting against emerging-market losses, according to three of the world's biggest banks.
After a strong start to the year, Societe Generale SA, Bank of America Corp. and Wells Fargo & Co. are questioning how much value is left in developing nations -- flagging the potential pitfalls to the Goldilocks story that's gained so many adherents. While riskier assets benefit from the more dovish turn by the Federal Reserve, global growth is still a major source of concern as prospects for an extension of a U.S.-China trade truce fizzle. On top of all that, the widespread consensus for emerging markets is still bullish.
"EM's structural weaknesses will reemerge from the dark sooner rather than later," Bank of America strategists including London-based David Hauner wrote in a note to clients. "We strongly advise looking for well-priced hedges."
The Mexican peso has historically been used as a proxy for emerging-market currencies given its round-the-clock trading, relatively good liquidity and the country's export-oriented economy. After rallying for nine straight weeks through Jan. 25 -- the longest winning streak in two decades -- peso gains appear to have stalled, and shorting the currency may turn into a popular trade in case of a wider selloff.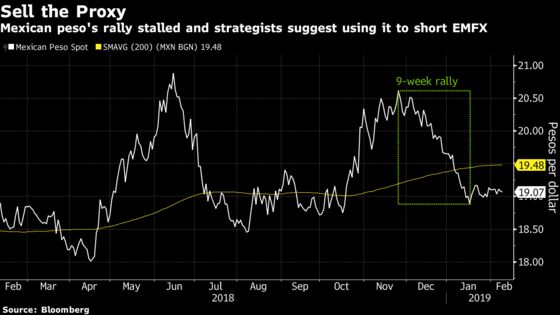 Bank of America strategists recommend buying USD/MXN calls and Mexico CDS for hedging, instead of simply going long dollar-peso spot. One barrier against short-peso wagers is that the benchmark rate stands at a decade high, making it costly to bet against the currency given it's elevated carry.
Societe Generale's Jason Daw, the Singapore-based strategist who was one of the few to anticipate the slump in emerging markets last year, says investors should hedge against a recession in the world's largest economy. His firm predicts that could happen in the first half of 2020. Judging by past moves at times of weakness in the U.S., investors should favor the Indian rupee, the South Korean won or the Taiwanese dollars as hedges.
"Timing the U.S. recession or judging the magnitude of the U.S./global slowdown is not easy," Daw wrote in a report to clients. "But when it starts, having some recession hedge ideas in the back pocket can prove useful."
Investors need to identify where the market rally has got ahead of itself, because those assets will be the first to decline.
For Wells Fargo, Brazil is one case where investors have become excessively optimistic. The real is among the best-performing currencies this year on expectations the new administration of President Jair Bolsonaro will pass an unpopular social security reform, privatize state-owned companies and revive growth.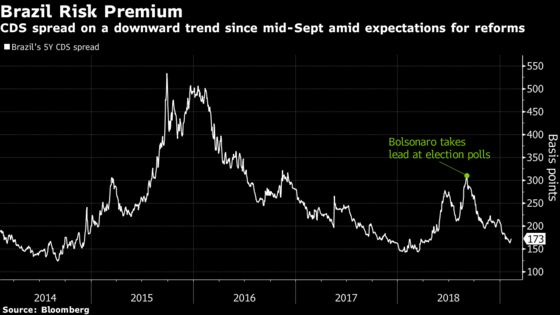 "Now would be a good time to hedge EMFX risk, especially for some of the currencies that are still fragile," said Brendan McKenna, a currency strategist at Wells Fargo in New York. "Brazil is a good example. I have a longer-term bearish view on the real, and would say now would be a good time to put a hedge on as the real has strengthened a fair amount."
He recommends using Brazilian real forward contracts or credit default swaps to hedge, as the spreads hover near a one-year low, and would likely blow out if the reform agenda hits any roadblocks. Hedging against the Turkish lira and the Argentine peso weakness is also a good idea if the investor doesn't mind the cost since it is "pretty expensive" now, he adds.
--With assistance from George Lei.
To contact the reporter on this story: Aline Oyamada in Sao Paulo at aoyamada3@bloomberg.net
To contact the editors responsible for this story: Rita Nazareth at rnazareth@bloomberg.net, Philip Sanders