BOE December Rate Hike Bets Evaporate as Saunders Cites Omicron
The Bank of England's leading inflation hawk said there could be advantages from waiting for more data on how the omicron variant of the coronavirus will impact the economy before raising interest rates, prompting investors to slash bets on a December hike.
Michael Saunders, who voted to lift borrowing costs last month, said the new strain will be the key issue at the BOE's next decision, adding to speculation the central bank may delay a move this month. It's possible the variant could impact both demand and supply even if the U.K. avoids deeper restrictions, he said.
Markets reacted to Saunders' unexpected signal by paring bets on a 15-basis-point hike on Dec. 16. Investors are see a 36% chance of such a move, down from 56% on Thursday and a near certainty last month.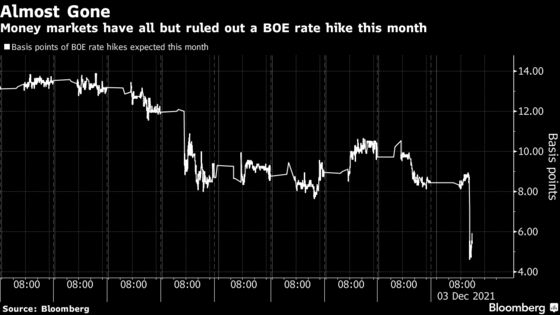 "At present, given the new omicron Covid variant has only been detected quite recently, there could be particular advantages in waiting to see more evidence on its possible effects on public health outcomes and hence on the economy," Saunders said in a speech on Friday.
What Our Economists Say ...

"Dovish remarks Friday from one of the most hawkish members of the Monetary Policy Committee now make a February hike the most likely outcome, assuming the worst risks to the outlook are avoided."

--Jamie Rush, Bloomberg Economics. Click here for the REACT.
Still, Saunders also cautioned there was a cost in delaying a hike, saying that could allow the U.K.'s labor market to tighten further, driving up inflation expectations. That may mean the BOE has to move even more aggressively next year with a more "abrupt and painful" tightening, as opposed to the "limited" hikes that would be needed if it acted sooner, he said.
"For me, the balance between these considerations is likely to be a key factor at the December meeting," he said.
The official said that if the economy evolves as expected in November, some additional tightening beyond the initial hike will be needed fairly soon. Market bets for hikes in 2022 remained more solid after the speech, with investors still pricing in a rate of 1% by the end of next year.
Underlying wage growth is 4.5%, "clearly above the pre-pandemic pace" and the he believes it is "likely that pay deals will pick up in the coming year."
He was "skeptical" about the BOE's forecast that underlying wage growth will slow in 2022. "Rather than a slowdown in underlying average earnings, it seems more likely to me that pay deals will pick up in the coming year, because the labor market is tight," he said.
That 750,000 people are missing from the U.K labor market since the start of the pandemic. Saunders said he did not think participation would recover completely. Some may be suffering from long-covid, while younger people are staying in education.
Omicron could affect the economy through a number of channels. "you could imagine that Omicron could affect consumers and businesses to defer purchases, investments. It also could affect the composition of demand, hindering recovery in services, extending strength in goods and adding to constraints on global supply of goods which might reinforce global inflation pressures."
"It also could worsen U.K. potential growth participation."
"The scale and the the balance of these effects in terms of their implications for inflation outlook depends on the magnitude of the effect on public health, still uncertain at this stage.
Saunders hasn't made up his mind on how to vote on rates later this month