Big Win for Russian Wheat on Go Ahead to Sell More to China
Big Win for Russian Wheat on Go Ahead to Sell More to China
(Bloomberg) -- Russia has been given the green light to export wheat grown across the country to China, in a breakthrough that could increase competition for sales from Europe and North America.
China will now accept wheat and barley from all over Russia, up from a previously allowed seven regions which excluded major growing areas, Russia's agriculture watchdog said. Until now, shipments have been limited because of China's concerns about the dwarf bunt fungus in parts of Russia.
Russia has long sought to boost farm exports to China, and in recent years signed deals to ship poultry while also planning to start express food trains. Friday's agreement gives the wheat giant a chance to boost sales to a country that has become one of the top buyers. It also followed the first in-person meeting between Vladimir Putin and Xi Jinping in more than two years.
"Russian grain potentially could win some market share from the west in Chinese markets, so it could look beneficial for politicians in both countries," Andrey Sizov, head of consultant SovEcon, said by phone. China could eventually become one of the top destinations for Russian wheat, he added. 
The two countries are continuing to work on potential trade opportunities, watchdog Rosselkhoznadzor said in a statement. That includes a plan to allow Russia to supply peas to China in 2022.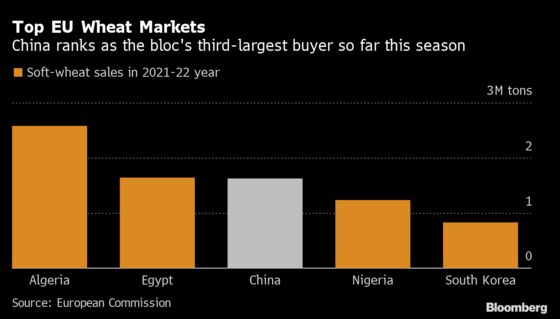 Russian wheat exports have jumped in the past decade, grabbing share across mainstay European and American markets. China has been one of the few remaining holdouts, and winning access there now could challenge sales from the likes of France, Australia and the U.S.
China's wheat purchases have doubled in just a few years to make it the world's fourth-biggest importer. The grain has been attractive for use in animal feed, and rising incomes are also boosting local demand for foodstuffs like bread, noodles and dumplings. 
The move to allow in more Russian wheat could mark a further blow to European Union sales, which have already seen their dominance wane in Algeria after the North African nation eased specifications to allow Black Sea grain. China ranks as its third-largest market so far this season.
Paris wheat futures touched a session low after the announcement, erasing gains made earlier Friday.
Russian wheat has also won access to countries including Saudi Arabia in recent years. While the Black Sea nation has faced slowing shipments this season due to a smaller harvest and government export restrictions, it's still among the largest suppliers.
It may take a while for any significant sales to China. There will probably be one or two test deliveries this season, according to Eduard Zernin, head of the Russian Union of Grain Exporters.
"Large-scale deliveries may begin in the 2022-23 season, where we can expect a volume of at least 1 million tons, with the prospect of higher volumes as trade relations develop," he said.