U.K. Extends Lockdown; NYC Plans 'Heroes' Parade: Virus Update
Follow the latest global developments surrounding the Covid-19 pandemic here.
Novavax Inc.'s vaccine candidate showed strong efficacy against the coronavirus, including mutated variants, in a large trial. The head of the World Health Organization warned of an urgent need for more shots, especially in Africa.
U.K. Prime Minister Boris Johnson announced an extension of pandemic restrictions until July 19 because of a surge in the delta variant. At the same time, vaccines from Pfizer Inc. and AstraZeneca Plc were found to be highly effective after two doses at preventing hospitalization of those infected with that variant, according to health authorities in England.
The Group of Seven backed Japan's plan to proceed with the Olympic Games in Tokyo as a symbol of global unity in the battle against Covid-19. Meanwhile, the group fell short o a pledge to donate 1 billion additional vaccine doses to developing nations.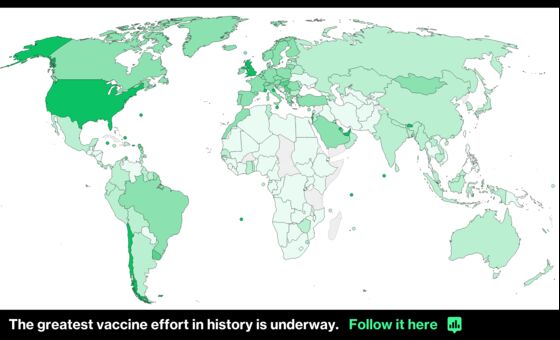 WHO Chief Cites Urgent Need for More Shots (1:05 p.m. NY)
World Health Organization Director-General Tedros Adhanom Ghebreyesus welcomed the Group of Seven's recent pledge of 870 million Covid-19 vaccine doses, but said more shots are needed quickly.
The steep increase in Covid-19 cases in Africa is "especially concerning" because it's the region with the least access to vaccines, diagnostics and oxygen. That increases the continent's mortality rate among critically ill patients, despite having fewer reported cases than other regions.
New variants have substantially increased transmissions, "meaning the risks have increased for people not protected," he said. "Right now the virus is moving faster than the global distribution of vaccines."
The emergence of more transmissible variants also means that public health and social measures may need to be more stringent and applied for longer in areas where vaccination rates remain low, he said.
NYC Plans Parade for Front-Line Workers (11 a.m. NY)
NYC Launches $100 Bonus for Vaccine Referrals (11 a.m. NY)
New York City will launch a $100 referral bonus program for community groups to boost the rate of vaccinations, which have slowed in recent weeks, Mayor Bill de Blasio said on Monday.
For every unvaccinated person an organization brings in to get a Covid-19 shot, the community group gets $100 per person, up to $20,000, de Blasio said. The program will start on Wednesday.
De Blasio is trying to reach a goal of 5 million vaccinated by the end of June, which he warned earlier this month that the city might not hit. Only 3.9 million people are fully vaccinated, with 4.5 million receiving at least one dose.
Vaccines Show Protection Against Variant (10:15 a.m. NY)
Covid-19 vaccines from Pfizer Inc. and AstraZeneca Plc are highly effective after two doses at preventing hospitalization of those infected with the delta variant, underscoring the urgency in getting people fully
The Pfizer and BioNTech SE shot is 96% effective against hospitalization after two doses, while the AstraZeneca and University of Oxford Covid inoculation is 92% effective, according to an analysis announced Monday by Public Health England. Those results are comparable with the protection offered against the alpha variant, which first emerged in Britain, the data show.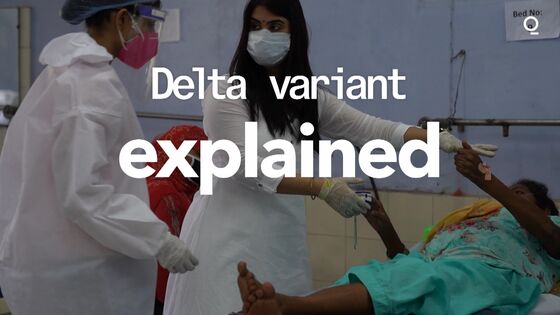 Hospital Workers Lose Vaccine Mandate Case (8:35 a.m. NY)
Houston Methodist Hospital workers lost their bid to block a policy requiring them to be vaccinated against Covid-19 after a judge in the U.S. District Court for the Southern District of Texas dismissed their lawsuit.
The workers' claim that the currently available Covid-19 vaccines are experimental and dangerous "is false, and it is also irrelevant," Judge Lynn N. Hughes said in a five-page court opinion.
Moderna Names Burton Chief Medical Officer (8:10 a.m. NY)
Moderna Inc. named former Johnson & Johnson executive Paul Burton chief medical officer to replace Tal Zaks, who is leaving the Covid vaccine-maker after six years. Burton spent 16 years with J&J in a variety of roles, most recently as chief global medical affairs officer of Janssen Pharmaceuticals. He'll assume the role at Moderna July 6, according to a statement.
Germany's Soeder Rejects 'Vaccine Tourism' (7:05 a.m. NY)
Bavaria Premier Markus Soeder has called for rules to be introduced to prevent people traveling to other countries for a Covid-19 shot.
"We don't want vaccine tourism; that is wrong," Soeder said Monday at a news conference. He was addressing a report that a group of more than 100 workers from an Italian luxury resort traveled to Munich in May and were inoculated in a hotel at the Bavarian capital's airport then immediately returned to Italy.
Novavax Posts 90% Vaccine Efficacy (6 a.m. NY)
Novavax Inc. said its Covid-19 vaccine was 90% effective at preventing symptomatic Covid and 100% effective at preventing moderate and severe symptoms. The shot was 93% effective against variants of concern, it said. The company expects to be able to manufacture 100 million doses a month by the end of the third quarter and 150 million daily by the end of the fourth quarter.
With assistance from Bloomberg