Bank of England Reinforces Option for Rate Hike This Year
(Bloomberg) -- Bank of England Governor Andrew Bailey moved to reinforce the option that interest rates could rise as early as this year while cautioning about the limits of monetary policy to balance diverging forces in the U.K. economy.
The central bank's key rate would become the tool of tightening policy to tame inflation, even before the current bond-buying program expires if necessary, Bailey said in a speech on Monday. Moving too soon, however, could disrupt the U.K.'s still nascent economic recovery, Bailey said.
The BOE is trying to assert its inflation-fighting credentials in the face of surging consumer prices. A recent poll of consumers showed expectations for inflation to remain above the central bank's 2% target for at least the next five years.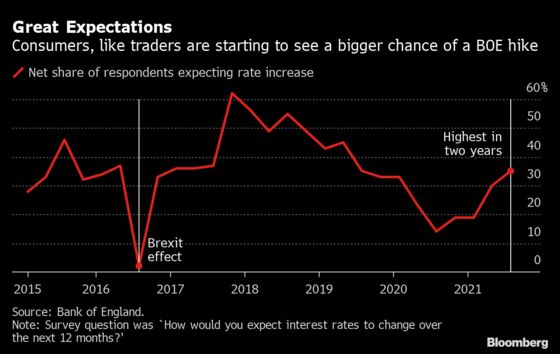 But officials surprised investors on Thursday when they left the door open for a potential rate hike as soon as November if necessary, saying their hands won't be tied by a program to stimulate the economy due to last until the end of this year.
Bailey doubled down on that, saying that unwinding the BOE's stimulus "should be enacted by an increase in Bank Rate, and if appropriate would not need to wait for the end of the current asset purchase program."
The yield on the U.K.'s 10-year government bonds rose 3 basis points to 0.95% at the close in London. 
Markets now expect the central bank to raise borrowing costs from the current record-low level of 0.1% in February. Banks such as HSBC Holdings Plc have also brought forward their forecasts of the BOE's first move.
"Asset purchases are set to end in December, suggesting a November rate rise is possible. But in our view it is very unlikely," said Liz Martins, senior economist at HSBC. She expects the BOE to raise rates by 15 basis points in February.
But Bailey's remarks also conveyed the limits of monetary policy in responding to shocks weighing on the outlook. He noted the economy is headed into "hard yards," with supply-chain constraints and a shortage in truck drivers that's made it harder to find everything from gasoline to vegetables in supermarkets.
"Monetary policy will not increase the supply of semi-conductor chips," Bailey said in a text of a speech to be delivered Monday night in London. "It will not increase the amount of wind, and nor will it produce more HGV (heavy goods vehicle) drivers. Moreover, tightening monetary policy could make things worse in this situation by putting more downward pressure on a weakening recovery of the economy."
Story Link: BOE's Bailey Says Bank Rate is Key Tool for Monetary Tightening