Australia to Seek WTO Action on China Wine-Tariff Dispute
(Bloomberg) -- Supply Lines is a daily newsletter that tracks trade and supply chains disrupted by the pandemic. Sign up here.
Australian Prime Minister Scott Morrison said his government is seeking to take World Trade Organization action to resolve its wine-tariff trade dispute with China.
"Barley producers in Australia, wine growers in Australia, have been targeted with trade sanctions that we believe are completely unconscionable," Morrison said in a radio interview on Thursday. "We are seeking to take those up to the World Trade Organization and see them resolved there."
Asked whether the government has lodged its complaint over wine tariffs to the WTO, a spokesperson from Trade Minister Dan Tehan referred to a radio interview this week where he said "we are seriously looking at taking that next step of going to the WTO." Australia has already taken action at the global trade body over Beijing's barley tariffs.
Britons Are Guzzling the Australian Wine That Didn't Go to China
Ties between Canberra and Beijing, which started to become strained in 2018, nosedived last year when Morrison's government called for independent investigators to probe the origins of the pandemic and also repeatedly criticized Chinese actions in Hong Kong and Xinjiang.
That's spilled into trade reprisals -- the prime minister is this week heading to the Group of Seven meeting in the U.K. where he has said he will be seeking support from other global leaders to counter what he's labeled as "economic coercion."
China has imposed tariffs of more than 200% on Australian wine for five years since March, formalizing curbs that have been in place for months amid an increasingly fraught relationship with Canberra. The top commodities buyer said that Australian wine had been subsidized and sold under market value, a view that's been rejected by the Australian government.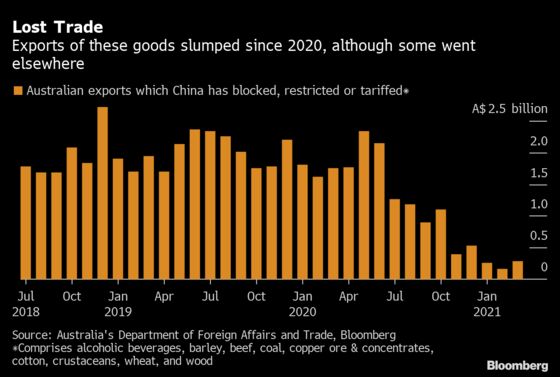 China's reprisals at Australia have hit a range of other commodities including coal, beef, barley and lobster. China was the top buyer of Australian wine before Beijing imposed tariffs, buying close to A$1 billion ($773 million) worth of wine in 2019, about 40% of all wine exports.
Australia announced it was taking China to the WTO in December 2020 over barley, after Beijing imposed duties of over 80% on the grain in May. Chinese officials claimed that growers were being subsidized and Australia had been dumping the product, a case that Australia strongly rejects. Still, the dispute process could take up to three years, according to Agriculture Minister David Littleproud.