Tech Leads Stock Rebound From Lows Amid Earnings: Markets Wrap
A slew of technology companies - including Amazon & Alphabet are slated to report earnings in the U.S. later today.
(Bloomberg) -- A rally in big technology companies lifted stocks from Thursday's lows, tempering concern over a bumpy economic rebound. Apple Inc., Amazon.com Inc., Alphabet Inc. and Facebook Inc. jumped in extended trading as results crushed Wall Street estimates.
Futures on the S&P 500 and Nasdaq 100 climbed after the close of regular trading. The iPhone maker also announced a 4-for-1 stock split to make the shares more accessible to a broader base of investors. Earlier Thursday, equities sank as data showed the U.S. economy had its sharpest contraction on record, while the number of Americans filing for unemployment benefits rose. President Donald Trump raised the notion of delaying the Nov. 3 election until after the coronavirus pandemic eases.
Some other corporate highlights:
Qualcomm Inc. soared on a strong sales forecast.
United Parcel Service Inc. jumped to a record on results that blew past estimates.
Procter & Gamble Co. had a surge in sales amid high demand for detergent and continued stockpiling.
Johnson & Johnson's experimental coronavirus vaccine protected a group of monkeys with a single shot, prompting it to start trials in humans this month.
Thanks to solid balance sheets and a suite of products that benefit from social distancing, giant tech companies have fared better during the pandemic-induced recession. The Nasdaq 100 is still poised to beat the S&P 500 for a 10th consecutive month -- the longest winning stretch in 20 years. But with much of the good news already priced into markets, traders are looking for catalysts that could sustain further momentum in equities.
"We're in that uncertain time between the hopeful third quarter rebound and some concern about the reopening process and what the recovery looks like," said Tom Garretson, senior portfolio strategist for RBC Wealth Management. "We're kind of in that void right now, waiting for things to play out."
In a very busy day for earnings, investors also digested economic figures that highlighted the massive devastation caused by the coronavirus pandemic. While some numbers have improved after the reopenings, the recent spike in infections shows that the recovery will most likely take time. Federal Reserve Chairman Jerome Powell said Wednesday that there are signs the increase in cases is starting to weigh on activity, while noting that the path forward for the economy is "extraordinarily uncertain."
"It's shocking no matter how you look at it," said Randy Frederick, vice president of trading and derivatives for Schwab Center for Financial Research. "Are things going to get better from here? I don't think we know just yet. The virus is getting worse in a lot of areas, and some places have started to shut back down again. If you look at earnings in terms of beat rates, the results have actually been pretty good, granted the expectations bar has been set very low."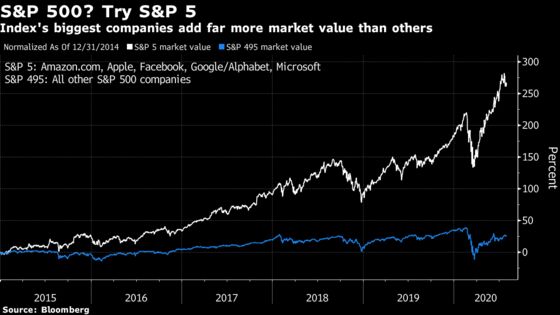 There's a distinction to be made between the S&P 500's five biggest companies and all the rest, according to BCA Research.
The firm compared the total market value of the five -- Amazon.com, Apple, Facebook, Google owner Alphabet and Microsoft Corp. -- with the value of the other 495 companies in a chart last week. The top five's value increased 266% from the start of 2015 through Tuesday, according to data compiled by Bloomberg. In the same period, the value of the rest rose just 25% -- and the entire gain occurred after the S&P 500 set this year's low in March.
Here are some key events coming up:
Results from Chevron Corp. and Caterpillar Inc. are due Friday.
China PMI data comes Friday.
These are some of the main moves in markets:
The S&P 500 decreased 0.4% as of 4 p.m. New York time.
The Stoxx Europe 600 Index decreased 2.2%.
The MSCI Asia Pacific Index fell 0.1%.
The Bloomberg Dollar Spot Index decreased 0.2%.
The euro increased 0.4% to $1.1841.
The Japanese yen appreciated 0.1% to 104.80 per dollar.
The yield on 10-year Treasuries declined four basis points to 0.54%.
Germany's 10-year yield sank four basis points to -0.54%.
Britain's 10-year yield fell three basis points to 0.088%.
The Bloomberg Commodity Index dipped 1.1%.
West Texas Intermediate crude declined 2.8% to $40.13 a barrel.
Gold weakened 0.8% to $1,954.24 an ounce.