U.S. Stocks Climb, Bonds Rise Ahead of Trade Talks: Markets Wrap
Asia Stocks Signal Mild Gain as G-20 Meetings Loom: Markets Wrap
(Bloomberg) -- U.S. stocks gained as investors turned positive on the outlook for trade ahead of a meeting between the American and Chinese presidents.
The S&P 500 Index posted its largest weekly advance since 2011, helped by a dovish turn from the Federal Reserve. Microsoft capped its best weekly gain since 2015 and finished the five days as the world's most valuable company, surpassing Apple. Oil's brief dip below $50 a barrel Friday sent energy producers lower and buoyed airlines. Optimistic trade comments from U.S. and Chinese officials provided support for equities ahead of a Saturday dinner meeting between Donald Trump and Xi Jinping.
Ten-year Treasury yields resumed their drop toward 3 percent, while the dollar pushed higher. Crude capped its biggest monthly slump in a decade. Emerging-market equities slipped, though Chinese stocks advanced even as data showed the economy remains in a rough patch. The euro weakened with the region's shares after data showed inflation easing in the region.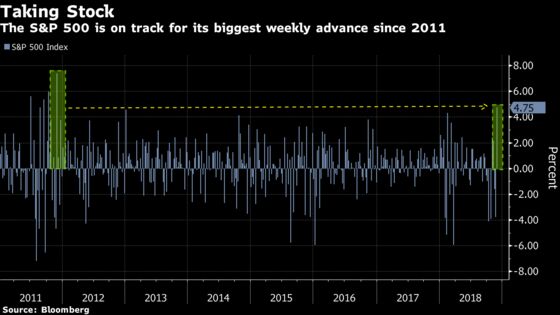 Any sign of a trade truce could tame the greenback's gains and boost riskier assets including emerging-market currencies and stocks. Trump on Thursday gave conflicting signals on his expectations for reaching a deal with Xi this weekend, as officials work on the contours of an accord that may delay ramping up tariffs on the Asian country in January. Goldman Sachs, however, said an escalation of tensions is the most likely outcome.
"The market really wants to see a deal with China," said Peter Mallouk, the co-chief investment officer of Creative Planning, a wealth-management firm with about $36 billion in assets. "If we can get any kind of trade indication in the coming weeks that there was a path to getting a deal done, I think people would be surprised how positively the market would react to that kind of news."
The first official gauge of China's economy in November showed manufacturing activity continued to worsen, indicating the authorities will need to keep using stimulus measures as economic growth slows. On Thursday in the U.S., minutes from the Federal Reserve's last policy meeting showed the central bank preparing for a more flexible path in 2019.
Terminal subscribers can read our Markets Live blog.
Trump and Chinese President Xi Jinping will meet at the G-20 summit of world leaders in Argentina that kicked off Friday. Russia's Vladimir Putin and Saudi Arabia's Mohammed bin Salman are likely to discuss oil policy.
Ford, Fiat Chrysler, other automakers report November U.S. sales on Monday.
Fed Chairman Jerome Powell testifies on the economic outlook before Congress's Joint Economic Committee on Wednesday.
These are the main moves in markets:
The S&P 500 Index rose 0.8 percent at the close of trade in New York; the gauge gained 4.8 percent this week and 1.8 percent in November.
The Stoxx Europe 600 Index fell 0.2 percent.
The Nikkei-225 Stock Average rose 0.4 percent for its sixth consecutive gain.
The MSCI Emerging Market Index decreased 0.3 percent.
The Bloomberg Dollar Spot Index advanced 0.4 percent.
The euro dipped 0.7 percent to $1.1319.
The British pound decreased 0.4 percent to $1.2744.
The Japanese yen was little changed at 113.52 per dollar.
The yield on 10-year Treasuries dipped two basis points to 3.01 percent, the lowest in more than 10 weeks.
Germany's 10-year yield fell one basis point to 0.31 percent, the lowest in more than 14 weeks.
Britain's 10-year yield was little changed at 1.36 percent.
West Texas Intermediate crude decreased 1.5 percent to $50.68 a barrel.
Gold fell 0.2 percent to $1,222.35 an ounce.
Copper fell 0.1 percent to $2.7875 a pound.
--With assistance from Adam Haigh, Christopher Anstey and Robert Brand.
To contact the reporters on this story: Brendan Walsh in Austin at bwalsh8@bloomberg.net;Vildana Hajric in New York at vhajric1@bloomberg.net
To contact the editors responsible for this story: Samuel Potter at spotter33@bloomberg.net, ;Jeremy Herron at jherron8@bloomberg.net, Brendan Walsh