Argentina Prices Jump More Than Expected to 18-Month High
Argentina ordered stricter enforcement of price controls and said it would hire 500 inspectors to ensure businesses are complying.
(Bloomberg) -- Argentina's inflation accelerated last month at the fastest pace in 18 months, threatening to derail a fragile economic recovery six months before key midterm elections.
Consumer prices rose 4.8% in March from February, according to government data released Thursday, far more than the 4.2% median forecast of economists surveyed by Bloomberg. Economy Minister Martin Guzman had said Wednesday that inflation should cool in April after reaching its peak for the year last month.
The monthly figure was the highest since September 2019. Education, clothing and alcoholic beverages led all categories. Prices for food, the most heavily-weighted category, rose slightly below the headline figure. Annual inflation reached 42.6% in March.
"High and accelerating inflation is one of the key macroeconomic challenges facing the government at this stage," Goldman Sachs economist Tiago Severo wrote in a note after the report's release. "Inflation dynamics may prove decisive for the performance of the ruling coalition in the upcoming mid-terms."
ARGENTINA REACT: High March Print Exhibits Inflation Challenge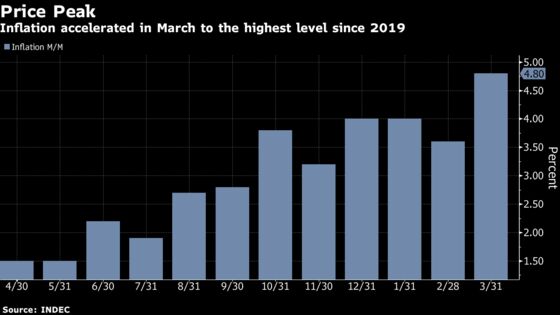 Double-digit inflation has been a persistent problem for recent administrations in Argentina. To combat it, President Alberto Fernandez's government has relied on unorthodox tools including price caps and agreements, rejecting traditional monetary options used by most countries.
Read More: Inflation Will Keep Accelerating in Latin America, Goldman Says
The recent price spike comes as the government is implementing new restrictions to fight record Covid cases, itself a threat to Argentina's economic recovery. On Thursday, the government announced that it will soon roll out new requirements for exporters to ship beef abroad, part of a broader campaign to strictly enforce price controls.
Guzman asked for "more cooperation" by companies to try to reach the government's 29% annual inflation target for the end of 2021.
The clampdown on prices has also led to an uneasy relationship between Fernandez's government and businesses. U.S. companies recently asked his administration to ease up on price controls, calling the regulatory environment "hostile, restrictive and unpredictable."