Base Metals Rise on Optimism of U.S. Infrastructure Bill
Aluminum declined after auto sales fell in China, highlighting the risks to demand as pressures on supply show signs of easing.
(Bloomberg) -- Base metals climbed higher on Monday, led by aluminum, as investors bank on increasing need for industrial materials to support billions of dollars in U.S. infrastructure spending.
U.S. lawmakers passed the country's biggest infrastructure package in decades on Friday, unleashing $550 billion of fresh spending on roads, bridges, public transit and other projects in the coming years.
"The market is projecting a significant amount of new investment in various projects that will require more copper and base metals," TD Securities analyst Bart Melek said Monday in a phone interview.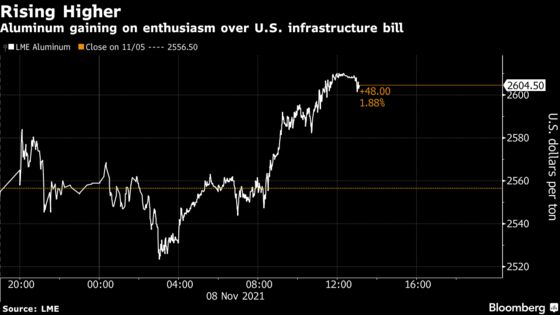 Commodities also benefited from a growing risk-on sentiment and a weaker dollar as U.S. stocks extended records, with the S&P 500 on its longest winning streak since 2017. The U.S. dollar fell and yields edged higher Monday as investors moved into stocks and away from fixed-income securities. A weaker dollar means traders require more of the greenback to buy commodities, which has a positive effect on prices.
Industrial metals also rose on China posting a record monthly trade surplus in October. The data underscores support for the Chinese economy that's slowed sharply in recent months. Stocks in the Asian nation also rose after the Communist Party gathered to lay the ground for extending the term of President Xi Jinping. China is the world's largest source of demand for most commodities because of its industry and construction-heavy economy. 
Aluminum, the lightweight metal whose uses range from car parts to beer cans, reversed earlier declines to lead the gains in base metals. Producers outside China are bringing capacity back online, and Alcoa Corp. said in a Sunday statement that it will restart aluminum production lines in Australia mothballed since 2009.
Aluminum on the London Metal Exchange settled 1.9% higher at $2,605 a metric ton at 5:51 p.m local time. LME copper settled 1.3% higher at $9,637.50 a ton. All other base metals rose.
Get Your
Daily Newsletter
Get market moving news, top news & compelling perspectives
---