A Near Default in China Gives Bond Hedging Sellers Jitters
Underwriters of new Chinese credit hedging tool narrowly avoided their first-ever payout in China's $13 trillion bond market.
(Bloomberg) -- Underwriters of a new Chinese credit hedging tool just narrowly avoided their first-ever payout in the nation's $13 trillion bond market.
An investor protection clause on two of Beijing Orient Landscape & Environment Co.'s bonds was triggered last month after the note repayment funds were used for other purposes. Bondholders recently gave waivers, not calling them defaults. The close shave is making underwriters more wary of selling credit risk mitigation warrants (CRMWs), according to Southwest Securities Co.
Read: China's Bond Hedging Tool Loses Momentum After Initial Frenzy
That's bad news for the fledgling market where issuance of the protection has already been tapering off as underwriters grow worried about heightened credit risks in the wake of record defaults. China revived CRMWs -- hedging instruments similar to credit-default swaps -- in October, after a two-year pause to ease financing woes among private sector firms amid a shadow-banking crackdown.
"Underwriters of CRMWs have become more aware of the risks they face after this incident," said Yang Yewei, chief fixed-income analyst of Southwest Securities. "They are basically providing debt repayment guarantees. But the thing is -- we are not only seeing high default risks, but also poor corporate governance among private sector firms."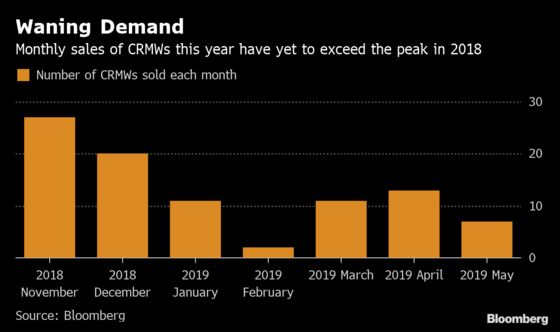 Chinese companies have defaulted on 43.2 billion yuan ($6.3 billion) of local bonds in the first five months, almost three times the tally in the year-earlier period, according to Bloomberg-compiled data. In contrast, the pace of CRMW issuance slowed in May with only seven transactions completed, the lowest since February.
"The underlying debt issuers of CRMWs have more default risks than expected, and the sellers of the credit hedging tools face rising pressure to make the repayment," according to a research note by Huachuang Securities Co. on Sunday.
Among the issues surrounding this instrument is the risk of pricing distortion, fueled by China's short history of bond defaults and a lack of data on recovery rates. Li Yunfei, credit analyst of Pacific Securities Co., expects banks to increase the fees for credit risk mitigation tools as the current rates don't adequately cover the risks they are taking.
For example, the price of the CRMW insuring investors against default of a bond sold by cement producer Hongshi Group Co. was 0.61% of the notional principal. That is only a quarter of that on China Grand Automotive Services Group Co.'s note which has the same tenor and rating.
"Risks are rising for sellers of CRMWs," said Yang of Southwest Securities. "The willingness of financial institutions to sell such tools will largely depend on how strong policy makers are promoting them."
--With assistance from Molly Dai.
To contact Bloomberg News staff for this story: Tongjian Dong in Shanghai at tdong28@bloomberg.net;Jing Zhao in Beijing at jzhao231@bloomberg.net
To contact the editors responsible for this story: Neha D'silva at ndsilva1@bloomberg.net, Lianting Tu, Chan Tien Hin
With assistance from Bloomberg