Hong Kong Banks Cast Pall Over Property by Raising Rates
Hong Kong's Fed-Matching Hike Raises Chance of Broader Bank Move
(Bloomberg) -- Hong Kong banks began closing the chapter on a decade of ultra-low borrowing costs, casting a pall over a property rally that made the city one of the world's most expensive places to buy a home.
HSBC Holdings Plc, Standard Chartered Plc and Hang Seng Bank Ltd. are among banks that boosted their best lending rates on Thursday, hours after the Hong Kong Monetary Authority raised its benchmark interest rate by 25 basis points, in line with the U.S. Federal Reserve. The increases in the prime rates, effective Friday, are the first since March 2006.
Hong Kong's economy and property market are bracing for further increases as the U.S. central bank normalizes policy. Because the city's currency is pegged to the dollar, the Asian financial hub moves in step with the Fed. Higher rates threaten gains in home prices that have been on a bull run for most of the past 15 years.
Hong Kong is the major city at the biggest risk of a property bubble worldwide, a UBS Group AG report published Thursday showed.
"Higher interest rates will add to the burden of homeowners with mortgages," Hong Kong Financial Secretary Paul Chan told reporters. The HKMA on Thursday raised its base rate to 2.5 percent from 2.25 percent, following a 25 basis point move in Washington.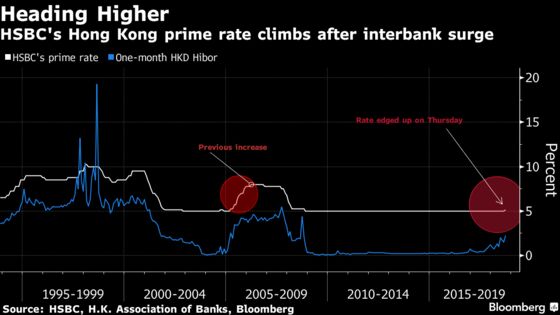 Existing home prices have climbed 13 percent this year, according to Centaline Property Agency, and almost 487 percent from their 2003 trough. Citigroup Inc. and CLSA Ltd. are among those warning of a reversal on expectations that mortgage servicing costs will increase.
Hong Kong sits atop UBS's Global Real Estate Bubble Index, followed by Munich, Toronto and Vancouver, the Swiss bank said Thursday. Affordability has deteriorated faster than any other city in the UBS study over the past decade, and the average person needs to work 22 years to afford a 60 square-meter apartment.
"We expect the price uptrend to slow in the near term but a sharp correction seems unlikely," the report said.
The city's one-month interbank rate jumped the most since 2008 on Monday and Hong Kong's dollar -- a currency on one of the world's tightest leashes -- surged the most against the U.S. dollar in 15 years on Friday. The Hong Kong dollar was little changed at 7.8129 against the greenback as of 12:28 p.m. local time.
While the Fed has been raising rates since late 2015, Hong Kong lenders resisted following because of ample liquidity and fierce competition for mortgages. However, banks' cash stockpiles have been shrinking since the HKMA started buying the local dollar in April to defend its currency.
--With assistance from Malcolm Scott, Paul Panckhurst, Fion Li, Tian Chen, Dominic Lau, Jasmine Wang and Shawna Kwan.
To contact the reporters on this story: Alfred Liu in Hong Kong at aliu226@bloomberg.net;Emma Dai in Hong Kong at edai8@bloomberg.net;Jeanny Yu in Hong Kong at jyu107@bloomberg.net
To contact the editors responsible for this story: Sam Mamudi at smamudi@bloomberg.net, ;Jeffrey Black at jblack25@bloomberg.net, Fion Li