U.S. Consumer Confidence Unexpectedly Jumps to 18-Year High
(Bloomberg) -- U.S. consumer confidence unexpectedly jumped to the highest in 18 years in September, according to a report Tuesday from the New York-based Conference Board, on brighter assessments of economic expectations and the present situation.
Highlights of Consumer Confidence (September)
Confidence index increased to 138.4 (est. 132.1) from an upwardly revised 134.7 in August (prev. 133.4); record reading of 144.7 was reached in 2000
Present conditions gauge improved to 173.1 from 172.8 
Consumer expectations measure jumped to 115.3 from 109.3
Key Takeaways
Sentiment improved a third month, reaching one of the best levels in a half century of data, as a strong job market and tax cuts keep Americans optimistic about the state of the economy and their finances even amid an escalating trade war with China. The Trump administration on Monday officially imposed duties on $200 billion worth of goods from the Asian nation, which economists say could weigh on consumer moods and increase prices for everyday items.
More upbeat responses are in line with the University of Michigan's consumer sentiment index, which rose this month to a six-month high on optimistic views about buying conditions for big-ticket items.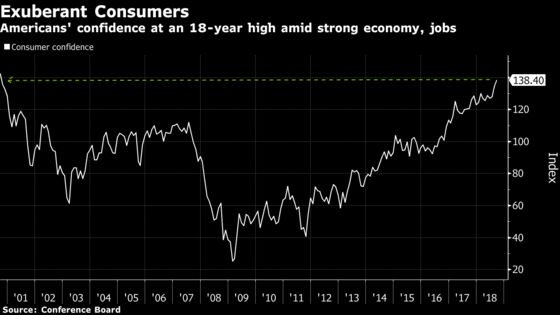 In a sign of optimism on the labor market, the labor differential, measuring the gap between respondents saying jobs are plentiful and those saying jobs are hard to get, widened for a third month to 32.5 percentage points. That's the biggest difference since January 2001.
"These historically high confidence levels should continue to support healthy consumer spending, and should be welcome news for retailers as they begin gearing up for the holiday season," Lynn Franco, director of economic indicators at the Conference Board, said in a statement.
27.6 percent of consumers said they expect better business conditions in next six months, the highest since December 2003, from 24.4 percent in August
22.6 percent of households expected incomes to rise in next six months, down from 25.4 percent
Share who said more jobs will be available in coming months increased to 22.5 percent, one of the highest levels of the current expansion, from 21.5 percent
--With assistance from Shobhana Chandra.
To contact the reporter on this story: Sarah Foster in Washington at sfoster94@bloomberg.net
To contact the editors responsible for this story: Brendan Murray at brmurray@bloomberg.net, Jeff Kearns, Scott Lanman