Emerging Markets, Trade Put a Cloud on Global Economy, OECD Says
Emerging Markets, Trade Put a Cloud on Global Economy, OECD Says
(Bloomberg) -- The global economy is shrouded in "high uncertainty" as the outlook for emerging markets deteriorates sharply and trade tensions intensify, the Organization for Economic Cooperation and Development said.
The gloomy analysis has pushed the Paris-based institution to cut its global growth forecasts for this year and next with particularly sharp revisions for Turkey, Argentina, South Africa and Brazil.
Since its last economic forecasts in May, the OECD said differences between economies have widened, confidence has fallen, and business surveys across the world point to a slowdown.
"Global growth is hitting a plateau," its chief economist, Laurence Boone, said in an interview with Bloomberg Television.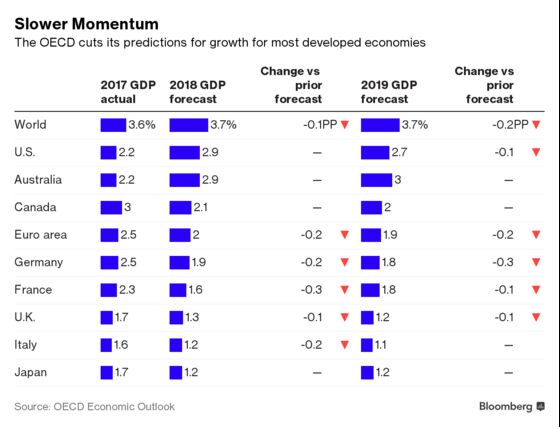 Trade is a central source of risk in the OECD's analysis. Tariffs and policy changes have already buffeted flows and prices in some areas, and affected sentiment and investment plans. Global trade has cooled faster than expected, falling to around 3 percent in the first half of 2018 from 5 percent in 2017.
Read more: ASEAN Insight - Trade War Casualties
As the U.S.-China trade war deepened this week with Beijing saying it will retaliate to President Donald Trump's order for more tariffs, the OECD warned things could get much worse.
"A further rise in trade tensions would have significant adverse effects on global investment, jobs and living standards."
Boone said the OECD's forecasts incorporate only tariffs that are implemented. If the administration in Washington follows through with all threats, the tariffs could raise U.S. prices by between a quarter and a half of a percentage point, and shave GDP by as much as 0.4 percentage points, she said.
The rise in protectionism is an added threat for emerging market economies, already suffering from tighter financial conditions and weaker growth prospects. The OECD slashed its forecast for Turkish growth next year by 4.5 percentage points to only 0.5 percent. For Argentina, it now forecasts a 1.9 percent contraction this year and stagnation in 2019.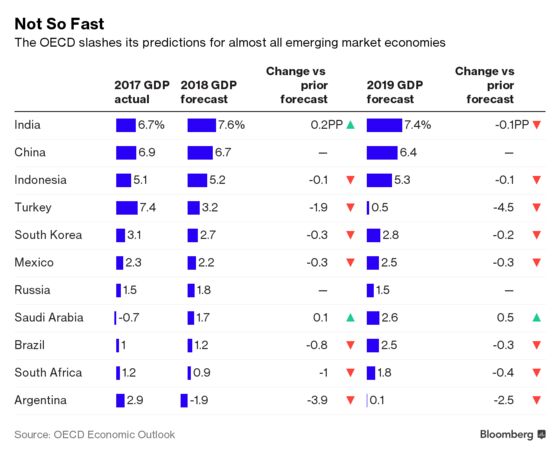 For now, broader contagion across emerging markets has been avoided, the OECD said. But it warned there could be "deeper tensions" and an even wider decline in investor sentiment, particularly if central banks in advanced economies tighten monetary policy faster than expected.
Still, the OECD said the U.S. Federal Reserve should continue to normalize its policy given strong near-term growth and likely inflation pressures from low unemployment.
It offered less clear support for the European Central Bank's exit plans, saying increased uncertainty about Italy and Brexit, as well as moderate growth prospects, may require "a more gradual pace of normalization."
To contact the reporter on this story: William Horobin in Paris at whorobin@bloomberg.net
To contact the editors responsible for this story: Fergal O'Brien at fobrien@bloomberg.net, Zoe Schneeweiss