Saudi Arabia Is Comfortable With Brent Oil Above $80
Saudi tries to keep crude from trading above $80, in part because Trump sent several tweets calling for OPEC to rein in prices.
(Bloomberg) -- Saudi Arabia is now comfortable with Brent oil prices rising above $80 a barrel, at least in the short term, as the global market adjusts to the loss of Iranian supply from U.S. sanctions, according to people familiar with the kingdom's view.
The world's largest exporter has tried to keep crude from trading above $80 so far this year, in part because U.S. President Donald Trump sent several tweets in May and June calling for OPEC to rein in prices as they flirted with that level.
In recent weeks, Saudi Oil Minister Khalid Al-Falih and other senior officials have discussed the oil market with investors, traders and other market participants in London, Houston and Washington, the same people said, asking not to be named because the talks were private.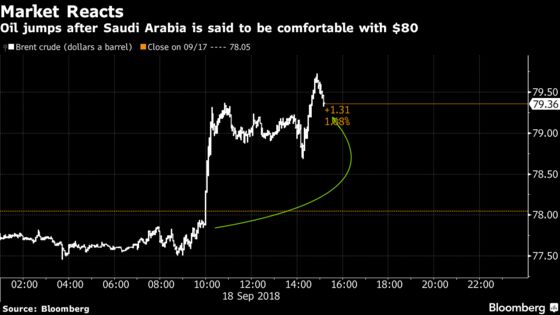 During the exchanges of views, the Saudis expressed concern both about the impact of American sanctions on Iran and effect of emerging-market turmoil on oil demand growth. Saudi officials were careful to avoid pinpointing a price target in their conversations, saying that while the kingdom has no desire to push prices higher than $80 a barrel, it may no longer be possible to avoid it.
Saudi officials didn't respond to requests for comment.
Saudi Arabia, Russia and other major exporting countries, are scheduled to meet on Sunday in Algiers to review the oil market. The Joint Ministerial Monitoring Committee includes both OPEC and non-OPEC countries and oversees compliance with the production cuts agreed to in late 2016, meeting every three months.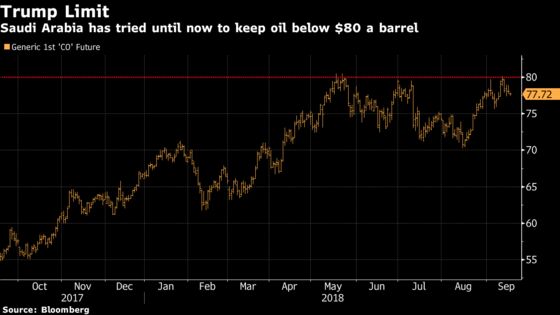 Brent crude on Tuesday jumped 2 percent to an intraday high of $79.73 a barrel, after touching $80.13 a barrel earlier this month. Brent rose to a three-year high of $80.50 a barrel in May, prompting Trump to publicly complain about rising fuel prices.
Oil prices are too high, OPEC is at it again. Not good!

— Donald J. Trump (@realDonaldTrump) June 13, 2018
The change in Saudi Arabia's view on prices coincides with some intense oil diplomacy. In the last two weeks, Al-Falih has met his counterparts from Russia and the U.S., Alexander Novak and Rick Perry, to discuss the oil market and the impact of U.S. sanctions on Iranian petroleum exports. It's unclear, however, whether the Saudis discussed prices with Russian and American officials.
Saudi Arabia has markedly increased oil exports to America, a sign OPEC's leading producer is responding to pressure from Trump. Earlier this month, Saudi shipments into the U.S. reached a four-week average of 1 million barrels a day for the first time since late 2017, according to government data.
The International Energy Agency, the oil watchdog for industrialized countries, warned earlier this month that Brent prices could break out above $80 a barrel unless other producers act to offset deepening supply losses in Iran and Venezuela.
"Things are tightening up," said the Paris-based IEA. "If Venezuelan and Iranian exports do continue to fall, markets could tighten and oil prices could rise."
OPEC has sought to adjust production in anticipation of U.S. sanctions on Iran and the further collapse in Venezuelan output. The kingdom, according to people briefed by Saudi officials, would prefer to be cautious. Riyadh boosted production significantly in June, pumping 10.42 million barrels a day, up from 9.9 million barrels a day in April. But they cut output slightly in July, and kept it roughly stable in August.
Iran's oil exports have fallen about 35 percent since Trump announced new U.S. sanctions on Tehran. In the first two weeks of September, it sold an average of 1.6 million barrels a day, down from 2.5 million barrels a day in April, according to Bloomberg tanker tracking.
To contact the reporter on this story: Javier Blas in London at jblas3@bloomberg.net
To contact the editors responsible for this story: Will Kennedy at wkennedy3@bloomberg.net, James Herron