Venezuela's Maduro Feasts on Steak, Smokes Cigars at Salt Bae Restaurant
(Bloomberg) -- On his way back home from a trip to Asia, Venezuela's President Nicolas Maduro stopped off in Turkey to dine at one of butcher sensation Nusret Gökçe's Nusr-Et restaurants where he sampled steaks and smoked cigars from a personalized box.
Maduro visited Nusr-Et, known for its $100 rib-eye, after making an official trip to China in hopes of securing financing for cash-strapped Venezuela. In videos posted by Nusret to Twitter and Instagram, Maduro is seen eating steak next to his wife, Cilia Flores, while also holding a cigar and trying on a t-shirt depicting Nusret, also known as Salt Bae and famous for how he prepares and seasons steaks.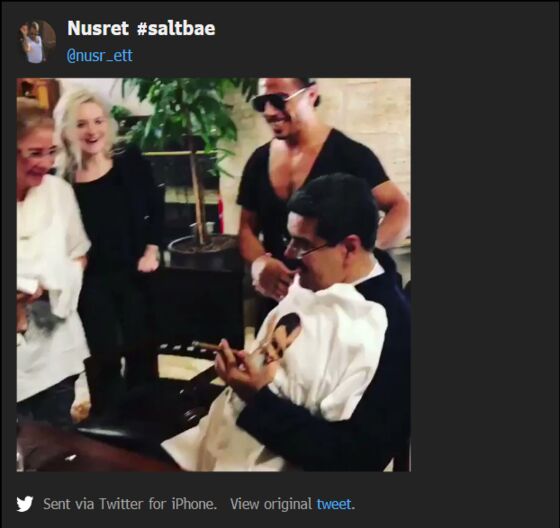 Venezuela is in the throes of a deep humanitarian and economic crisis, following years of misrule that have led to hyperinflation, power blackouts, water outages, as well as dire shortages of food and medicine. A survey by three leading Venezuelan universities estimated 87 percent of households were living in poverty in 2017 while 64 percent of Venezuelans lost weight last year, 11.4 kilograms on average.
Nusret, who has close to 16 million Instagram followers, deleted several videos showing Maduro's visit to the restaurant from Instagram shortly after posting them.
--With assistance from Noris Soto.
To contact the reporter on this story: Patricia Laya in Caracas at playa2@bloomberg.net
To contact the editors responsible for this story: Daniel Cancel at dcancel@bloomberg.net, ;Vivianne Rodrigues at vrodrigues3@bloomberg.net, Robert Jameson