Lagarde Says World Needs to Spend More to Meet Development Goals
Lagarde Says World Needs to Spend More to Meet Development Goals
(Bloomberg) -- The world needs to step up spending to meet the ambitious goals to reduce poverty and protect the environment adopted by the United Nations, IMF Managing Director Christine Lagarde said.
"For the low-income countries in particular, meeting the additional spending needs will require a strong partnership between all stakeholders -- countries themselves, but also official donors, philanthropy, and private finance," Lagarde said Monday in a speech in London at Bloomberg's European headquarters.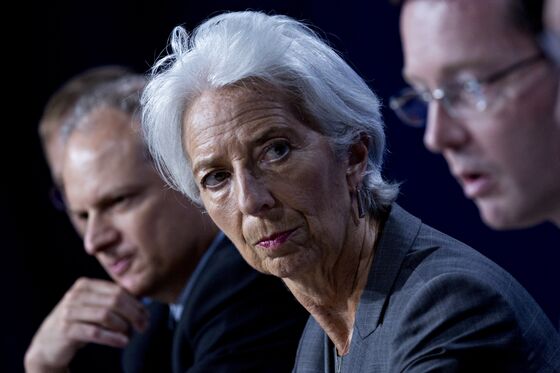 While she's optimistic that can be done, Lagarde said meeting the goals is increasingly becoming an "uphill" race as low-income countries struggle with growing debt loads.
She called on all countries to make the development goals a priority, arguing it's in their self-interest. "For without sustainable development at home, the bubbling economic and social pressures -- made worse by rapid population growth and growing environmental stress -- will surely spill across borders, including through mass movements of peoples," Lagarde said.
The UN General Assembly adopted the Sustainable Development Goals in 2015, with the intention of implementing them by 2030. The 17 goals include a pledge to eradicate extreme poverty, defined as living on less than $1.25 per day, as well as ending discrimination against women and girls, reducing inequality and fighting climate change.
Lagarde said the IMF is estimating spending needs for the goals in education, health, water, roads and electricity. The Washington-based fund is "exploring financing solutions," and will present its findings next week at a special UN session called by Secretary General Antonio Guterres, according to Lagarde.
The IMF warning comes as some developed nations threaten to turn away from the institutions of global cooperation founded after the Second World War, amid a surge in populist resentment against the established order. U.S. President Donald Trump has said he may withdraw from the World Trade Organization, and Britain is embroiled in a messy divorce from the European Union.
While some regions have made remarkable progress in alleviating poverty over the past few decades, income equality remains one of the global economy's greatest challenges, Lagarde said. Since 1980, the top one percent of earners globally have seen their incomes rise twice as much as those in the bottom 50 percent, she said, adding that inequality is on the rise in most rich nations.
The growing gap is partly due to technology, partly to "global integration," and partly to policies that favor capital over labor, she said.
Climate change "casts a growing shadow over our well-being and especially the well-being of our children," Lagarde said. The best way to address the problem would be to put a "price on carbon," such as by taxing carbon emissions, she said.
To contact the reporter on this story: Andrew Mayeda in Washington at amayeda@bloomberg.net
To contact the editors responsible for this story: Sarah McGregor at smcgregor5@bloomberg.net, Alister Bull, Randall Woods