Australian Jobs Market Tightens as Wage Signal Flashes Brighter
(Bloomberg) -- Australian employment trounced expectations in August as a signal of potentially faster wage growth reached the strongest in five years.
Underutilization -- a sum of the jobless rate and underemployment which provides a better insight into the labor market's overall health -- fell to 13.4 percent, the lowest level since June 2013, the statistics bureau said in Sydney. The central bank has kept interest rates at a record low to drive investment and hiring to such a point that employers are forced to offer higher wages.
The Data:
Jobs rose 44,000 from July; economists forecast 18,000 gain
Unemployment rate held at 5.3%, matching estimates
Full-time jobs climbed 33,700; part-time employment rose 10,200
Participation rate gained to 65.7%; economists predicted 65.6%
Underemployment fell 0.3 percentage point to 8.1%
"August was an outstanding month for the Australian labor market," said economist Callam Pickering of global jobs site Indeed, who previously worked at the Reserve Bank. "The underutilization measure is more highly correlated to wage growth than the traditional unemployment rate. So this development is a welcome one for future wage growth. Although we still have a long way to go."
The central bank is struggling for new inflation drivers as the government tries to push down power prices ahead of a looming election and tobacco tax hikes taper off; that leaves wages as the best option to fuel consumer-price growth and set the stage for the first rate increase since 2010.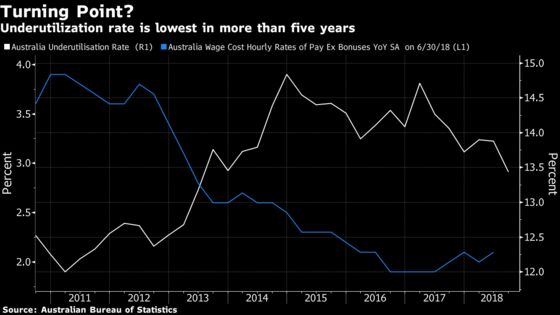 Australia's economic growth jumped to a six-year high in the second quarter and policy makers hope a 1.5 percent cash rate will keep driving that rapid expansion to tighten the labor market and help rekindle inflation. A potential headwind is renewed political instability that saw Australia's sixth change of prime minister since 2007, denting business confidence.
What Our Economists Say...
"Still-strong hiring may help nudge wages higher in the second half.  Even so, as long as a pick up in wages is gradual and wage growth remains below 3 percent -- the upper bound of the RBA's inflation target -- it's unlikely to sway the central bank."

-- Tamara Mast Henderson, Bloomberg Economics

For more, see our Australia Insight
New South Wales, the most populous state, added 43,200 jobs and its unemployment rate fell to 4.7% from 4.9%; the northeastern state of Queensland added 11,900 positions
The rustbelt state of South Australia shed the most positions, down 8,400; unemployment rose the most in the mining hub of Western Australia, to 6.4% from 6%
Su-Lin Ong, head of Australian economic and fixed-income strategy at Royal Bank of Canada, called the report "a beautiful set of numbers" while expressing caution about whether the labor market can generate sustained stronger wage growth.
"While the move lower in the underemployment rate is encouraging, after a worrying lift in the second quarter, it is still less than a percentage point below its historic high," she said. "Ample slack remains in the labor market."
To contact the reporter on this story: Michael Heath in Sydney at mheath1@bloomberg.net
To contact the editors responsible for this story: Nasreen Seria at nseria@bloomberg.net, Chris Bourke, Victoria Batchelor