Trump Threatens Tariffs on Another $267 Billion of Chinese Imports
Trump mulls imposing tariffs on additional $267 billion in Chinese goods on short notice in addition to the $200 billion tariff. 
(Bloomberg) -- President Donald Trump said he's ready to impose tariffs on an additional $267 billion in Chinese goods on short notice, on top of a proposed $200 billion that his administration is putting the final touches on.
The implementation of tariffs on $200 billion of products from China "will take place very soon depending on what happens," Trump told reporters Friday on Air Force One. "I hate to do this, but behind that there is another $267 billion ready to go on short notice if I want."
U.S. stocks erased gains after Trump's remarks, with the S&P 500 Index falling by 0.3 percent to the lowest in two weeks by 1:26 p.m. in New York.
Trump latest tariffs threats, if he follows through, would more than cover the value of all goods the U.S. buys from China, according to U.S. government data from last year. The U.S. imported $505 billion of Chinese products in 2017, Census Bureau figures show.
Levying duties on all Chinese purchases would hit "every aspect of our American lifestyle -- so the clothes that we put on our back, the food that we eat, the cars that we drive, the shoes that we wear," Hun Quach, vice president of international trade for the Retail Industry Leaders Association, said by phone.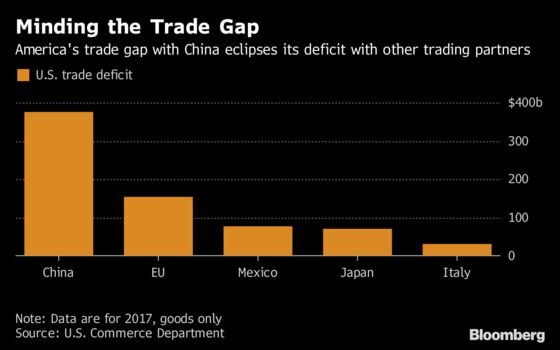 The Trump administration has already slapped duties on $50 billion of Chinese exports since July, which spurred immediate in-kind retaliation from Beijing. China has said it would be forced to retaliate to all of the U.S.'s tariff measures, fanning concerns that a deepening trade war could dent the global economic outlook.
Members of the public had until Thursday to comment on the administration's plan to slap tariffs on $200 billion of Chinese goods, ranging from bicycles and baseball gloves to digital cameras, paving the way for Trump to announce the tariffs as early as Friday.
There's no final decision on that round of tariffs as the U.S. Trade Representative's office continues to "run their process," White House Deputy Press Secretary Lindsay Walters said on Friday.
The president's tough line contrasted with remarks earlier from White House economic adviser Larry Kudlow, who left open the possibility of a negotiated solution to the trade dispute, but said China must show it's open to compromise.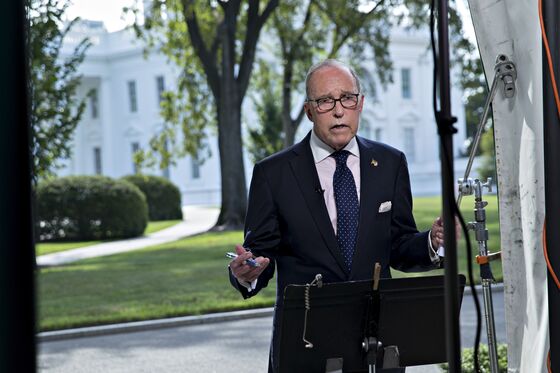 While China's response to U.S. demands has been unsatisfactory, Trump is still speaking to Chinese President Xi Jinping, and would be open to meeting in person, said Kudlow, director of the White House's National Economic Council. An opportunity could take place when world leaders gather at the UN General Assembly in New York this month and the Group of 20 summit in Argentina in November, he said.
"It's never too late to make good trade policy," said Kudlow. "But I will say this: the world trading system is broken." Trump is "dead serious" in his determination to push China to reform its trade policies, he added.
Trump is getting a last-minute earful from prominent technology companies and retailers as he considers whether to follow through with his plan to ratchet up tariffs on Chinese exports.
On Thursday, Cisco Systems Inc., Hewlett Packard Enterprise Co. and other technology companies sent a letter to U.S. Trade Representative Robert Lighthizer urging the administration to avoid imposing more tariffs. By increasing duties on telecommunications networking gear, the administration would raise the cost of accessing the Internet and slow the roll-out of next-generation wireless technologies, the companies said.
Manufacturers, and small and mid-sized firms in particular, can't quickly adjust and the tariffs imposed so far haven't led to any meaningful concessions, a coalition of the National Retail Federation and 150 organizations said in separate comments to Lighthizer. The administration should cease further tariffs actions and give another shot at talks for a trade deal with with China, it said.
"Tit-for-tat tariffs are counterproductive and so far have only produced increased costs for American businesses, farmers, importers, exporters and consumers,'' the coalition said.
--With assistance from Andrew Mayeda, Shawn Donnan, Mark Niquette and Janine Wolf.
To contact the reporter on this story: Shannon Pettypiece in Washington at spettypiece@bloomberg.net
To contact the editors responsible for this story: Brendan Murray at brmurray@bloomberg.net, ;Alex Wayne at awayne3@bloomberg.net, Sarah McGregor
Get Your
Daily Newsletter
Get market moving news, top news & compelling perspectives
---