U.S. Stocks Fall on Trump Plan for China Tariffs: Markets Wrap
Asian stocks posted modest gains, tracking a rise in U.S. equities after a better than expected reading on the U.S. economy.
(Bloomberg) -- U.S. equities slumped as President Donald Trump was said to move ahead with a plan to impose new tariffs on China as soon as next week. Emerging-market assets tumbled and the dollar rallied as traders sold riskier assets amid turmoil in Argentina and Turkey.
The S&P 500 Index extended its drop after the report on Trump's trade plan, with industrial stocks among the worst performers. The largest exchange-traded fund tied to the benchmark gauge maintained losses in after-hours trading after Trump said in a Bloomberg interview that he would pull out of the World Trade Organization if it doesn't treat the U.S. better. Apple Inc. held on to an advance as Warren Buffett said he likes the iPhone maker.
Argentina failed to stem a rout in the peso as the central bank jacked up its benchmark interest rate, already the highest in the world, to 60 percent. Treasuries edged higher with core European bonds, while Italian and Greek notes slumped. The euro fell after the EU's chief negotiator warned the bloc must be prepared for a disorderly Brexit. Canada's dollar weakened after second-quarter growth missed estimates.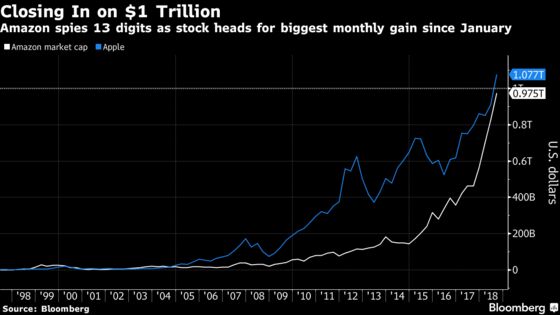 Investors showed caution Thursday amid a slew of risks to the global outlook, not least U.S. trade and foreign policy, and amid speculation the recent run-up in equity prices may have gone too far. After Trump on Wednesday accused China of undermining efforts to pressure North Korea into giving up its nuclear weapons, people familiar with the matter said the U.S. president wants to move ahead with a plan to impose tariffs on $200 billion in Chinese imports as soon as a public-comment period concludes next week.
While tariffs didn't seem to have much of an impact on corporate earnings in the second quarter, increasing trade barriers will weigh on sentiment, according to Kim Forrest, a senior portfolio manager at Fort Pitt Capital Group in Pittsburgh.
Investors are worried that "maybe we're actually going to see this tariff activity show up in the second half of the year," she said.
Telecom shares led the Stoxx Europe 600 Index lower. In Asia, Japanese equities pared earlier gains to finish slightly higher and stocks fell in Hong Kong and China. The Australian dollar declined after second-quarter business investment was worse than expected, while New Zealand's currency slumped as business confidence hit a 10-year low.
Elsewhere, crude broke through $70 a barrel for the first time in a month as shrinking stockpile levels in the U.S. pointed to supply constraints. Emerging-market stocks fell the most in two weeks and currencies declined, with the lira tumbling on a Turkish holiday amid reports the central bank's deputy governor is set to resign.
Terminal users can read more in our Bloomberg Markets Live blog here.
Here are some key events scheduled for the remainder of this week:
China's official factory PMI are due Friday.
The Bank of Korea sets policy on Friday. Weak jobs growth has cooled speculation of an interest-rate increase.
These are the main moves in markets:
The S&P 500 Index fell 0.4 percent at the close of trading in New York. The Nasdaq Composite fell 0.3 percent, while the Dow Jones Industrial Average slipped 0.5 percent.
The Stoxx Europe 600 Index sank 0.3 percent, the biggest dip in more than two weeks.
The U.K.'s FTSE 100 Index dipped 0.6 percent to the lowest in more than two weeks.
The MSCI Emerging Market Index sank 1.2 percent, the biggest dip in more than two weeks.
The Bloomberg Dollar Spot Index climbed 0.2 percent.
The euro dipped 0.3 percent to $1.1674, the first retreat in a week.
Canada's dollar fell 0.5 percent to C$1.2977 per U.S. dollar
The Japanese yen increased 0.6 percent to 111 per dollar, the biggest climb in more than a week.
The yield on 10-year Treasuries dipped three basis points to 2.86 percent.
Germany's 10-year yield decreased six basis points to 0.34 percent, the first retreat in a week.
Britain's 10-year yield declined three basis points to 1.45 percent.
West Texas Intermediate crude climbed 0.9 percent to $70.14 a barrel, a one-month high.
Gold fell 0.5 percent to $1,200.49 an ounce.
--With assistance from Andreea Papuc, Cormac Mullen, Adam Haigh, Christopher Anstey, Samuel Potter and Robert Brand.
To contact the reporters on this story: Brendan Walsh in Austin at bwalsh8@bloomberg.net;Sarah Ponczek in New York at sponczek2@bloomberg.net
To contact the editors responsible for this story: Jeremy Herron at jherron8@bloomberg.net, Brendan Walsh