American Companies Are Raising Prices at a Brisk Pace
(Bloomberg) -- President Donald Trump is giving many businesses an unexpected benefit on top of lower taxes and regulatory relief: He's helping to restore their pricing power.
By pouring hundreds of billions of dollars of tax cuts and extra government spending into an already stretched economy, Trump is fostering an environment where firms such as conglomerate 3M Co. can raise prices because demand for their products is strong.
"The power is with the seller," said Chris Williamson, chief business economist at consultants IHS Markit Ltd.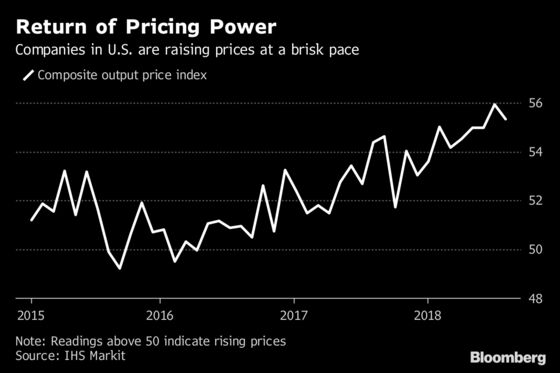 That's a turn-around from the past decade, when executives often bemoaned their inability to lift prices because of their fear of sacrificing sales. The shift will help them pad profits that are already surging thanks to lower taxes.
It's also good news for Federal Reserve Chairman Jerome Powell and his colleagues, who have struggled to lift inflation to their 2 percent target and hold it there. Policy makers took note of reports of a return of pricing power at their July 31-Aug. 1 meeting, according to the minutes of that gathering released last week.
It might not be so welcome to workers, who've had trouble winning bigger wage gains in spite of unemployment near a multi-decade low. Faster price rises already are eroding what purchasing power they have -- a point that some Democratic opponents of Trump have made as November congressional elections approach.
Average hourly earnings adjusted for inflation fell 0.2 percent in July from a year earlier, notching the weakest reading since 2012.
The political debate highlights the chicken-or-egg question at the heart of the inflation process that's been noted by Morgan Stanley Chief U.S. Economist Ellen Zentner and others: Which comes first -- stepped-up price increases or bigger pay hikes?
Some economists argue that rising prices come first, as companies seize opportunities to buttress their bottom lines when demand is strong. Workers then seek higher wages to make up for the purchasing power they've lost to rising inflation.
Others contend that wages lead the way as a tight job market prompts companies to boost salaries for coveted workers. Firms follow that with price increases to cover growing wage bills, boosting inflation in the process.
Complicating the picture this time around are the tariffs that Trump has slapped on a variety of imports from China and elsewhere. Those are raising costs for businesses and putting pressure on them to hike their prices in response.
Data due Thursday are expected to show that inflation picked up in July. The personal consumption price index that the Fed targets probably rose 2.3 percent in July from a year earlier, the most in more than six years, according to the median estimate of economists surveyed by Bloomberg News. After stripping out volatile food and energy costs, the core index probably rose 2 percent in July, versus 1.9 percent in June.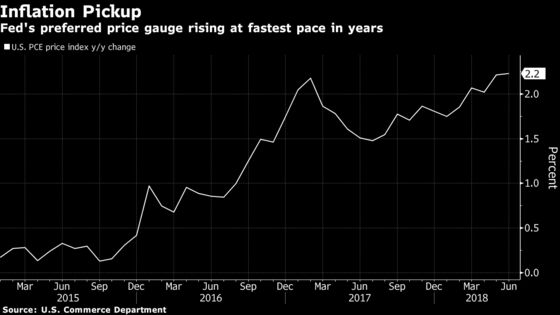 Recent business surveys suggest that companies see greater scope for boosting prices.
Non-manufacturing firms told the Philadelphia Fed this month that they expect to raise prices 3 percent in the coming year, up from a 2 percent increase they forecast in May.
A separate survey of both manufacturing and non-manufacturing companies by IHS Markit found that their average selling prices rose at the fastest rate of the nine-year-old expansion in July before the pace eased a bit in August.
That mirrors 3M's experience. The St. Paul, Minnesota-based maker of everything from Post-it notes to copper cabling reported the biggest increase in its U.S. selling prices in more than four years in the second quarter.
3M is "highly confident that our price increases will more than offset whatever we see for raw material headwinds for the year," including from higher tariffs, Chief Financial Officer Nicholas Gangestad told Wall Street analysts on July 24.
Sealed Air Corp., the maker of Bubble Wrap and other packaging materials, also is finding it can raise prices without a big backlash from its customers.
"Where I've been very happy with the company's success is our ability to pass along price increases to our customers for our relevant input cost," William Stiehl, chief financial officer of the Charlotte, North Carolina-headquartered firm, told analysts on Aug. 7.
Of course, not every company is raising prices. Walmart Inc., the world's biggest retailer, has been holding the line on prices -- or in some cases reducing them -- even as its consumer-staples suppliers raise theirs.
"There is obviously some cost inputs rising. We've got risk of tariffs and transportation costs, et cetera," Dan Binder, vice president of investor relations for the Bentonville, Arkansas-based company, said in an Aug. 16 earnings call. "This is all in our plan. We are not going to get beat on price."
Such worries about losing out, though, may fade if the economy continues to grow solidly and consumer demand remains strong on the back of Trump's fiscal stimulus.
"The tightening labor market and tightening product market will show through in a gradual pick-up in inflation," said Peter Hooper, chief economist for Deutsche Bank Securities.
To contact the reporter on this story: Rich Miller in Washington at rmiller28@bloomberg.net
To contact the editors responsible for this story: Brendan Murray at brmurray@bloomberg.net, Jeff Kearns, Scott Lanman