Robots on Warehouse Floor Show a Surprise Perk of Hot Job Market
Companies use automated transporters to move packages without a human forklift driver. Weirdly, this means a promotion.
(Bloomberg) -- Instead of displacing American workers, robots may soon make many of their jobs more efficient.
Intelligent machines increasingly scooting across America's warehouse floors show just how. Companies use automated transporters to move packages without a human forklift driver. A few years ago, their adoption would have meant a layoff. These days, it means a promotion.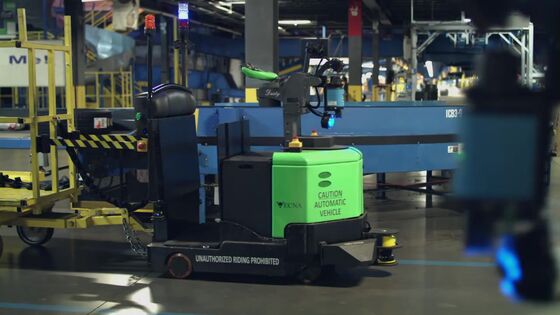 "People are so needed that it's nearly impossible to displace a good worker," says John Hayes, Charlotte, North Carolina-based vice president of sales and marketing at Vecna Robotics, which makes mechanized helpers for manufacturers and shippers. "What they're looking to do is automate the simplest of functions -- point-to-point transfers -- take those people, and move them to more value-added job."
Early in a business cycle, productivity-enhancing investments can spell trouble for workers: "streamlining" and "efficiency" can sound a lot like "unemployment" to some observers. But in this tight labor market, technology investment could improve productivity and give companies room to raise wages without eroding profit. And employees transferred to more training-intensive positions could see their future career prospects improve.
"Workers are more likely to reap the gains from productivity when they have more bargaining power," said Nick Bunker, a Washington-based economist at hiring website Indeed.com who focuses on the U.S. labor market.
The unemployment rate is below 4 percent for the first time since 2000, and recent data show that the country has more job openings than unemployed Americans. As the hot labor market bites, company earnings calls are full of complaints about worker shortages.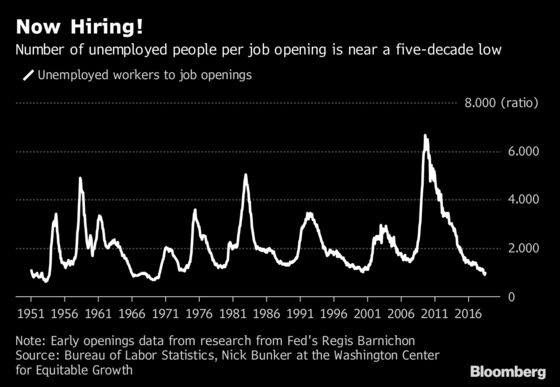 Against that backdrop, business investment is finally creeping higher following a recession-exacerbated drought. Morgan Stanley's capital expenditure tracker posted a succession of all-time highs earlier this year, indicating continued momentum in equipment investment. Spending on both structures and intellectual property remained robust in the second quarter.
Productivity has yet to take off as a result. While output per hour grew at a 2.9 percent annualized rate in the second quarter, on a year-over-year basis it has only averaged 1.3 percent gains since the expansion began in 2009. That's down from average growth of more than 2 percent in the 1990's and early 2000's.
That slow progress could be holding back pay. Companies are often hesitant to hand out raises if they eat away profit: efficiency gains give them the cover they need.
Federal Reserve Chairman Jerome Powell noted in a June speech that moderate wage growth is "consistent" with low productivity growth. "A tight labor market may also lead businesses to invest more in technology and training, which should support productivity growth," he said. Higher productivity would be welcome by the central bank because it could help the economy run at a faster pace without sparking unwanted inflation.
Robot-marketer Hayes is watching Powell's prediction play out in real time. Vecna's transfer machines -- stout, bright green contraptions reminiscent of a space-age lawnmower -- are hotly demanded in retail and manufacturing warehouses. As they trickle onto concrete floors to fill shortages, it's often a welcome development.
"It doesn't take an MIT scientist to maintain it or keep it running: usually the folks on the floor can manage the system," he says. "You see workers move into way more productive positions, not just for them, but also for the company."
Anecdotes of labor-enhancing investment are popping up beyond shop floors. Bionic exoskeletons could improve worker longevity at Ford factories. New York-based burger chain Shake Shack Inc. is testing kiosks in place of cashiers, partly to contain rising labor costs in the longer-term.
Technology investment is just one way companies are trying to improve efficiency. Many retailers are turning to smarter scheduling and careful process management to better use workers' time and maintain profit margins. Others are turning to training, hoping that improving employee performance will lead to higher productivity and less turnover.
Some businesses seek to avoid labor bidding wars altogether, turning to formerly untapped pools -- the less-educated, minority groups with high unemployment rates, and sometimes the formerly incarcerated -- to staff production lines, construction sites and shop floors.
Still, the trend toward machine investment is particularly interesting because of its potential to permanently boost what workers are capable of producing, and because technology investment has been long-awaited. Even the current pickup is far from the efficiency-enhancing explosion that some economists have been expecting.
The fact that automation is happening in more of a trickle than a gush is probably good news for American workers. While their strong labor market position means employees stand to benefit from capital investment that pushes them up the value chain, economists disagree over whether workers win in the end, or machines.
Research on the topic, including a 2016 paper from the Centre for European Economic Research, often finds that technical change reduces middle-skill employment, but that's offset by new product demand and other benefits. Still, the fact remains that the workers who robots replace in a factory might not be the same ones who gain work as consumer goods become cheaper and drive demand in related industries.
"From a labor perspective, there's a clear advantage if the speed of adjustment is relatively slow," said David Dorn, a University of Zurich economist who researches technology and employment. "You can adjust to a new occupation structure without the need to make big layoffs."
To contact the reporter on this story: Jeanna Smialek in New York at jsmialek1@bloomberg.net
To contact the editors responsible for this story: Alister Bull at abull7@bloomberg.net, Jeff Kearns
Get Your
Daily Newsletter
Get market moving news, top news & compelling perspectives
---