Trump Changes Tune on Dollar After Talking Down the Currency
President Donald Trump looks to have changed his tune on the U.S. dollar.
(Bloomberg) -- President Donald Trump looks to have changed his tune on the U.S. dollar -- at least for now.
After repeatedly talking down the value of the currency in the past, Trump boasted on Twitter on Thursday that investors were pouring money into the greenback -- a development that would tend to push the currency up, not down.
"Our Economy is doing better than ever," Trump said. "Money is pouring into our cherished DOLLAR like rarely before, companies earnings are higher than ever, inflation is low & business optimism is higher than it has ever been."
His chief economic adviser, Larry Kudlow, was more explicit in an interview on CNBC television. He described the dollar as "strong and steady," adding that it has been trading in a range for "quite some time."
"As the president noted today, I think the king dollar, the strong dollar, it's a steady dollar, it's a sign of confidence," said Kudlow, who is director of the White House's National Economic Council. "Money is flowing into the U.S.A. That's terrific."
The dollar has risen about 5 percent this year against a broad basket of currencies, buoyed by strong U.S. economic growth, rising interest rates and U.S.-driven trade tensions, which boost the greenback's appeal as a haven.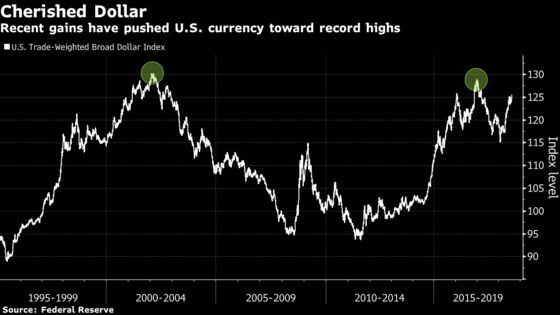 It's not clear whether the shift in Trump's dollar rhetoric will prove to be long-lasting.
"He has a history of talking it down more than he has of boosting it and clearly he is one to give us surprises, so it's not easy to predict if he will have a new strengthening guidance," said Juan Perez, senior foreign-exchange trader and strategist at Tempus Inc. in Washington. "He notices and is grasping the power of currency and may opine on it as he sees best fits his narrative."
Kudlow, a long-time proponent of what he's called "King Dollar," touted the benefits of a strong currency in holding down oil and other commodity prices.
Asked if he favored any particular level of the greenback in foreign exchange markets, Kudlow said, "I just want it steady."
"There is all this unrest around the world," Kudlow said. "Trillions of dollars are coming here because we're in an economic boom that virtually nobody thought possible."
Some of that unrest has been fueled by the president's own actions.
Turkish markets, already in a tailspin over President Recep Tayyip Erdogan's economic policies, tumbled further after Trump's Aug. 10 announcement that the U.S. is doubling steel and aluminum tariffs on shipments from the country. In making that decision, Trump pointed to the rapid slide of the Turkish lira "against our very strong dollar."
"The U.S. is not playing its usual role to try to tamp down anxiety and fears," said David Hensley, director of global economics for JPMorgan Chase & Co. in New York. "If anything, the U.S. has been throwing fuel on the fire."
Breaking with the past practice of presidents not commenting on the dollar, Trump has frequently expressed displeasure with the strength of the greenback since taking office in January 2017. He's accused some of America's trading partners, including China and Europe, of deliberately driving down the value of their currencies to gain advantage for their exporters.
In another break from the past, Trump has criticized Federal Reserve Chairman Jerome Powell and his colleagues for raising interest rates and in the process undercutting his efforts to slash the U.S. trade deficit.
--With assistance from Lananh Nguyen.
To contact the reporter on this story: Rich Miller in Washington at rmiller28@bloomberg.net
To contact the editors responsible for this story: Brendan Murray at brmurray@bloomberg.net, Alister Bull, Sarah McGregor
Get Your
Daily Newsletter
Get market moving news, top news & compelling perspectives
---