No Stopping China Property Market as Small Cities Set Record
(Bloomberg) -- There's no stopping China's property market.
New-home prices rose at the fastest pace in 22 months in July, climbing 1.2 percent from the previous month. That's according to Bloomberg calculations based on statistics bureau data for 70 cities released Wednesday. It was the fifth straight monthly acceleration.
The jump in values in third-tier cities was the biggest in data going back to 2009, signaling the potential for the government to roll out more housing curbs in a cooling campaign that began more than two years ago. The dilemma for officials is how to restrain prices without tanking the property sector during a broader economic slowdown.
"A persistently high home price is going to lead to a very strong response from the government," Phillip Zhong, a Hong Kong-based equity analyst at Morningstar Investment Management Asia, said on Bloomberg Television. "We are going to expect to see more tightening measures being put in place."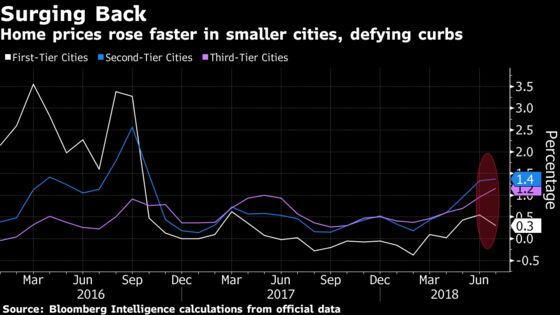 Values climbed 1.2 percent in third-tier cities, calculations showed, despite the potential blow to demand from authorities tightening loan approvals for shanty-town redevelopments. The gain was 1.4 percent for second-tier cities. Those increases compared with just 0.3 percent in the biggest cities of Beijing, Shanghai, Shenzhen and Guangzhou.
"The pent-up demand is too strong to be fully curbed," Yang Kewei, Shanghai-based research director at China Real Estate Information Corp., said before the release. "It's entirely possible that later this year prices may surge again."
The latest gain across the 70 cities compared with a 1.1 percent increase in June. New-home values, excluding government-subsidized housing, rose in 65 cities, compared with 63 in June.
Signs have been mixed for the property industry: unsold land in government auctions could be an early warning sign of a slowdown, but that contrasts with home sales surging during the traditionally slow month of July. In one of the latest moves in the government's cooling campaign, Shenzhen announced tougher curbs on sales last month.
"A market correction in third- to fourth-tier cities in response to the shanty-town policy change will likely come later than expected," Yang said. "Apart from the resilient sentiment, an expected stronger supply in the second half will also help stoke sales."
--With assistance from Rishaad Salamat.
To contact Bloomberg News staff for this story: Emma Dong in Shanghai at edong10@bloomberg.net
To contact the editors responsible for this story: Katrina Nicholas at knicholas2@bloomberg.net, Paul Panckhurst, Peter Vercoe
With assistance from Editorial Board