Argentina Boosts World's Highest Rates Amid Turkey Contagion
(Bloomberg) -- Argentina took emergency steps to stabilize its currency in the wake of an emerging-market rout caused by Turkey's crisis, jacking up its already highest-in-the-world interest rate by 5 percentage points and announcing it will sell $500 million to support the peso.
Policy makers set the rate for seven-day notes at a record 45 percent and pledged to keep it at that level at least until October. The central bank also said it plans to phase out 1 trillion pesos ($33.2 billion) of short-term notes by December in an effort to limit the currency volatility that often popped up when the securities were rolled over. And the bank also changed a system for dollar auctions to make them harder for traders to anticipate.
Argentina's dramatic moves are in contrast to what's happening in Turkey, where President Recep Tayyip Erdogan's government has lost the confidence of investors by refusing to raise interest rates in the wake of the crisis.
While Argentina suffers from some of the same economic problems -- fast inflation and sizable current-account and budget deficits -- the Latin American country is reacting with orthodox policies blessed by advisers from the International Monetary Fund. Government officials Monday cut their 2018 economic growth forecast to zero, citing the turmoil sparked by Turkey. Most economists anticipate a recession this year, a central bank survey shows.
"The central bank is showing determination to prevent an overshooting of the the currency and inflation," said Alberto Ramos, the head of Latin America research at Goldman Sachs. "An external shock has hit the currency and they're reacting in the classic way -- what you need to do is hike rates and hope to be able to stabilize the currency with that."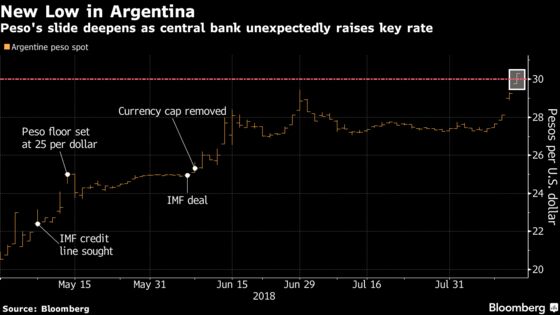 The peso fell past 30 per dollar for the first time Monday before recovering from its lows of the day. It was down 2.3 percent to 29.93 per dollar after sinking as much as 3.6 percent.
It was the fourth surprise rate hike by the central bank this year as officials try to combat a currency selloff spurred by concerns that inflation is out of control and the government wasn't taking sufficient steps to shore up the economy. Argentina's peso has tumbled 38 percent this year and the yield on its century bonds has soared past 10 percent.
But the most recent selloff in the peso -- down more than 6 percent drop in the past two days -- was spurred by concerns Turkey's problems would infect other emerging markets. Argentina was seen as among the most vulnerable economies.
"They had to do something against contagion," said Siobhan Morden, the head of Latin America fixed income at Nomura Holdings. "You have to do what you can to minimize financial contagion to the real economy."
Monday's announcement came as the IMF began its mission to Argentina after granting a $50 billion credit line to the South American nation in June. That was the same month former Finance minister Luis Caputo took over at the central bank from Federico Sturzenegger, who admitted he had lost credibility with investors as he resigned.
The fund supports the central bank's plan to wind down its short-term notes, known as Lebacs, IMF spokesman Gerry Rice said, adding that the securities were "a source of vulnerability" for Argentina.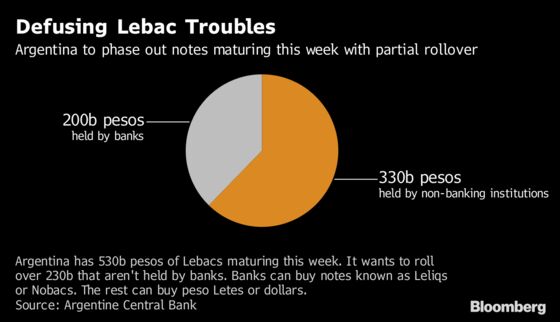 The notes, designed to mop up excess cash in the economy, became a growing concern for investors after the amount in circulation swelled to 976 billion pesos ($32 billion). In the latest auctions, the government only partially rolled over some of the securities, leaving extra pesos in circulation that analysts said stoked dollar demand and fed inflation.
The central bank will end daily auctions of $50 million to $100 million, which used IMF funds, and instead sell its reserves whenever it sees fit to stem volatility in the peso. Its first sale under the new system will be $500 million on Tuesday. It has already spent about $15 billion in reserves this year to defend the peso.
The change in methods for dollar sales echoes a move Mexico made in 2009 when its currency was tumbling in the wake of the global financial crisis. It shifted from a set $400 million-a-day auction system to direct interventions of various sizes. The idea was that a less predictable central bank would discourage bearish bets.
The $500 million may not be enough to satisfy dollar demand Tuesday as 100 billion pesos of short-term notes are allowed to mature, said Ezequiel Zambaglione, the head of research at Buenos Aires-based broker Max Valores SA. That could put downward pressure on the peso, he said.
Some investors complained Monday that Argentina's communication about its plans to support the peso sowed confusion, with separate announcements for each part of its initiative that make it harder to understand the strategy.
"They have a problem with communication," says Guillermo Nielsen, who served as Argentine finance secretary between 2002 and 2005. "Everything is not 100 percent clear yet."
--With assistance from Ignacio Olivera Doll, Jorgelina do Rosario, Pablo Gonzalez, Giulia Morpurgo and Aline Oyamada.
To contact the reporters on this story: Patrick Gillespie in Buenos Aires at pgillespie29@bloomberg.net;Carolina Millan in Buenos Aires at cmillanronch@bloomberg.net
To contact the editors responsible for this story: Vivianne Rodrigues at vrodrigues3@bloomberg.net, Andres R. Martinez, Brendan Walsh