Turkey's Meltdown Ripples Across Emerging Markets: Inside EM
Lira tumbles most since 2001 as Turkey grapples to stem rout
(Bloomberg) -- The massive selloff in Turkish markets reverberated across the globe, spurring a flight to haven assets.
The lira tumbled the most since 2001 after President Recep Tayyip Erdogan failed to reassure investors that the country's economic issues won't spread, while Donald Trump said he authorized doubling some metals tariffs on its NATO ally. The currency briefly pared losses after Trump's lawyer said the White House is close to a resolution on the case of American pastor Andrew Brunson -- who's been jailed in Turkey for about two years. The plunge in the nation's assets weighed heavily on emerging markets as stocks wiped out their weekly rally, and every currency retreated.
Traders pushed down the value of risk assets as the carnage in Turkey added to an already fragile landscape amid tensions between the U.S. and other major economies such as Russia and China. While analysts say there's no indication of a bigger blowup that will sharply curb global growth, investors are taking a more cautious approach amid wild market swings.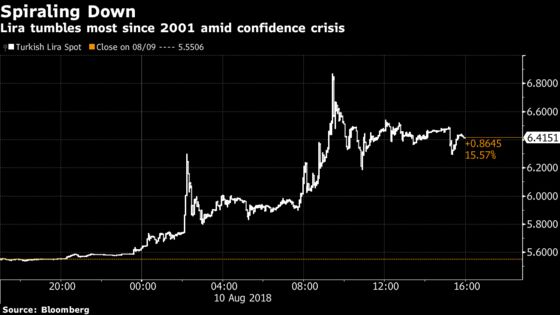 Turkey "is causing a ripple effect across most of the liquid markets, as traders and investors anticipate an outflow from local currency funds," said Richard Segal, senior analyst at Manulife Asset Management Ltd. in London. While moves may be exaggerated by thin trading, sanction concerns are multiplying the jitters, he said.
TURKEY INSIGHT: What's Driving Lira's Decline? 90% Sentiment
To make matters worse, selloffs in other developing nations added even more fuel into the fire. The Argentine peso tumbled and yields on the century bonds climbed to a record high as a graft probe widened. South Africa's rand sank beyond 14 per dollar amid uncertainty about the ruling party's policies on land and mining. Meanwhile, the ruble had its worst weekly slump since the 2015 oil crash as some of Wall Street's biggest banks warn investors to steer clear of Russian assets amid mounting risks of U.S. sanctions.
The loss of investor faith in Turkey's ability to contain the market rout intensified concern over a nation already buckling under the weight of one of the widest current-account deficits in emerging markets.
In his first public address this week since a meltdown sparked by the U.S. decision to sanction two government ministers, Erdogan called on Turks to sell their foreign-exchange holdings. And his Treasury and Finance Minister Berat Albayrak, who spoke moments later, failed to offer a policy message that soothed investor concerns.
Turkish banks will hold an emergency meeting with regulators on Saturday as the banking system was thrown into turmoil, with dollar shortages sweeping across Istanbul. And with all the gloom and doom, the euro ended up getting caught in the crossfire. The shared currency sank as much as 1.2 percent after a Financial Times report that the European Central Bank raised concern about the exposure of lenders in the region to Turkey.
"We are going to see earnings drop in the back of this for those banks that are exposed to the Turkish story and we are also seeing the contagion and spillover effects of these huge moves in Turkey which are getting worse," according to Jordan Rochester, a currency strategist at Nomura International.
The lira slid as much as 17 percent per U.S. dollar, while the Borsa Istanbul 100 Index tumbled amid a selloff in banks and steelmakers Kardemir Karabuk Demir Celik Sanayi ve Ticaret AS and Eregli Demir ve Celik Fabrikalari TAS. The iShares MSCI Turkey ETF had its worst week since 2008 -- with bearish bets on the fund jumping to the highest since June, according to IHS Markit data.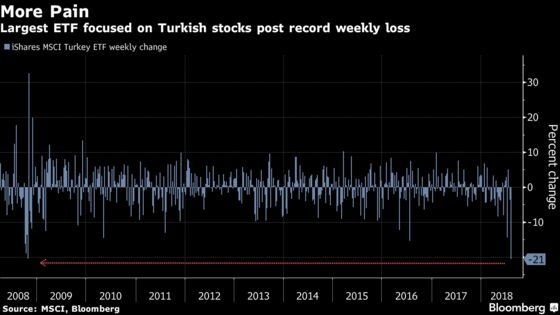 Highlights:
MSCI Emerging Markets Index slumped 1.5 percent to 1,062.37
CBOE Emerging Markets ETF Volatility Index surged 15 percent
MSCI EM Currency Index had its biggest drop since May 2017
Risk premium on EM sovereigns +10bps to 354bps: JPMorgan indexes
Here's what other analysts and investors are saying:
Paul McNamara, a London-based money manager at GAM UK Ltd.:

"This can be contained to just Turkey because there aren't really any other emerging markets which have the exact toxic blend that Turkey has"
"Our big worry is that if Turkey really goes into a major crisis and they bring in capital controls, that brings the asset class into disrepute. But I think we are weeks away from anything like that even being contemplated"

Per Hammarlund, chief emerging-market strategist at SEB in Stockholm:

"The contagion effect on other EMFX will be noticeable, but it will not cause a crisis in other EMs. Turkey is a special case"
"The best thing for Turkey is to turn to the IMF for support and credibly commit to a stabilization program"

Segal at Manulife in London:

"Thus far, the selloff is not systemic because underlying fundamentals have not changed"
"But European banks are very exposed to Turkey. Conditions are fragile and the situation could easily become systemic"

Christian Diclementi, an AllianceBernstein money manager in New York:

"The direct contagion risk to EM is low; no other country has the same negative mix of policy and politics at the moment. But as we have seen in the past, in instances like this, the babies are oftentimes thrown out with the bathwater"
"Turkey is the epicenter of the problem today. If the indirect linkage to other EMs caused a general repricing of EM assets that we find attractive over a medium term investment horizon, we would see that as an opportunity"

Jurrien Timmer, director of global macro at Fidelity Investments in Boston:

"EM was explained away generally as idiosyncratic -- it was about China, it was about Turkey, or Argentina or Venezuela. But this is now clearly getting to a further level and the question is whether this becomes contagious now"
"Ultimately, the question is whether this will slow down the ECB's plan to exit from QE and negative rates and will it slow down the Federal Reserve. Right now, it is too early to tell"
OPEC issues its Monthly Oil Market Report
India CPI
Uganda rate decision
For a list of the day's biggest earnings releases, click here
BRAZIL:

Ibovespa dipped 2.9 percent to 76,514.35
Real fell 1.6 percent to 3.86 per dollar
10-year local-bond yield advanced 26 basis points to 11.87 percent
Lukewarm Presidential Debate Mirrors Unclear Brazil Election
Brazil June Retail Sales Unexpectedly Dip After Trucker Strike

ARGENTINA:

Merval Index dipped 0.2 percent to 26,856.15
Peso fell 3.9 percent to 29.25 per dollar, record low
Argentine Treasury May Offer More Dollars to Support Peso: BTG
Graft Scandal May Risk IMF Agenda: Capital Economics

MEXICO:

Mexbol index fell 1.7 percent to 48,383.59
Peso declined 1.1 percent to 18.91 per dollar
10-year local-bond yield rose seven basis points to 7.774 percent
Guajardo Says Nafta Talks Are Progressing Well
Bullish Wagers on Mexican Peso Rise to Highest Since May: CFTC

Click for market news on ANDES
TURKEY:

Borsa Istanbul 100 Index declined 2.3 percent to 94,939.63
Lira dipped 13.7 percent to 6.4323 per dollar, weakest on record
Turkey Financial Crisis Erupts, Stoking Concerns of Contagion
Turkey Crisis in Charts: Worse Than Lehman, Similar to 1998

RUSSIA:

MOEX Russia Index fell 1.5 percent to 2,275.05
Ruble declined 1.6 percent to 67.72 per dollar
10-year local-bond yield gained seven basis points to 8.33 percent
Ruble Dives Most Since Oil Crash as Wall Street Sweats Sanctions
JPMorgan puts risk of sanctions on Russian sovereign debt at 50%

Click for market news on SOUTH AFRICA, POLAND and HUNGARY
CHINA:

Shanghai Composite Index little changed at 2,795.31
Offshore yuan fell 0.3 percent to 6.8692 per dollar
10-year local-bond yield little changed at 3.555 percent
PetroChina Is Said to Mull Temporary Halt of U.S. LNG Purchases
China says business cooperations with Iran are legitimate, lawful

INDIA:

Sensex Index fell 0.4 percent to 37,869.23
Rupee declined 0.2 percent to 68.835 per dollar
10-year local-bond yield gained one basis point to 7.7573 percent
State Bank of India is said to be in discussions with banks for a new facility; lender posted a third straight quarterly loss
"Stocks are consolidating after the stellar rally and markets are catching their breath amid no significant cues," Sageraj Bariya, vice president of institutional sales at East India Securities Ltd in Mumbai
Click for more on markets in ASIA
--With assistance from Giulia Morpurgo, Ziad Daoud (Economist) and Sophie Caronello.
To contact the reporters on this story: Rita Nazareth in New York at rnazareth@bloomberg.net;Aline Oyamada in Sao Paulo at aoyamada3@bloomberg.net
To contact the editor responsible for this story: Rita Nazareth at rnazareth@bloomberg.net
Get Your
Daily Newsletter
Get market moving news, top news & compelling perspectives
---