U.S. Stocks Retreat as Treasuries, Dollar Rise: Markets Wrap
Asia Stocks Signal Decline on Trade; Kiwi Slips: Markets Wrap
(Bloomberg) -- U.S. stocks faded into the close to cap a second day of losses amid selling in industrial and financial shares. The dollar and Treasuries rallied as investors assessed the latest salvos in the trade war with China and sanctions that torpedoed the Russian ruble.
The S&P 500 Index turned lower in the final 15 minutes of trading that was more than 10 percent below the 30-day average. The Nasdaq indexes pared erased gains to end little changed. Tesla Inc. slumped under reports of regulatory scrutiny. The 10-year Treasury yield fell to 2.92 percent after producer prices stagnated last month. The greenback climbed, while emerging-market currencies weakened for a second day.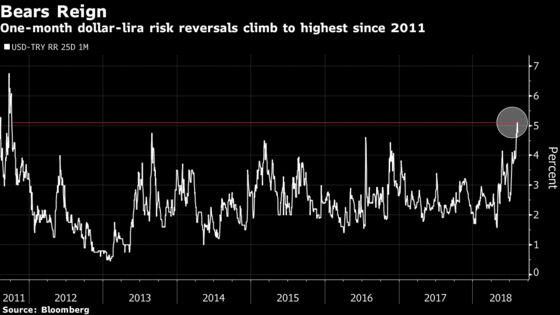 Geopolitical tensions between the U.S. and other countries are setting the tone for markets, with China responding to the Trump administration's latest trade war volley with additional tariffs of its own. The ruble hit a two-year low after the U.S. announced new sanctions on Russia over the March 4 nerve-agent attack on a former double agent in the U.K. Turkey's lira plunged to a record and bond yields climbed as a dispute over the detention of an American pastor dragged on.
Terminal users can follow our Markets Live blog here.
Here are some key events coming up this week:
U.S. consumer prices probably rose in July from June, consistent with a pickup in inflation that's projected to keep the Federal Reserve on a path of gradual interest-rate increases, economists forecast before Friday's release.
These are the main moves in markets:
The S&P 500 fell 0.1 percent to 2,853.59 as of 4 p.m. in New York.
The Nasdaq 100 Index was flat. Viacom rose 6 percent.
The Stoxx Europe 600 Index ended higher by 0.1 percent.
Germany's DAX Index rose 0.3 percent.
Emerging-market equities fell 0.2 percent.
The Bloomberg Dollar Spot Index rose 0.5 percent.
The euro dipped 0.7 percent to $1.1533.
The Japanese yen lost 0.1 percent to 111.062 per dollar.
Bonds

The yield on 10-year Treasuries declined three basis points to 2.9258 percent.
Germany's 10-year yield fell two basis points to 0.375 percent, the lowest in almost three weeks.
Japan's 10-year yield climbed less than one basis point to 0.115 percent.
West Texas Intermediate crude fell 0.3 percent to $66.72 a barrel.
Gold futures slipped 0.1 percent to $1,220.20 an ounce.
The Bloomberg Commodity Index lost 0.2 percent.
--With assistance from Robert Brand.
To contact the reporter on this story: Jeremy Herron in New York at jherron8@bloomberg.net
To contact the editors responsible for this story: Christopher Anstey at canstey@bloomberg.net, Yakob Peterseil