U.S., China Aim to Restart Talks to Defuse Trade War,  Sources Say
Talks have been stalled for weeks, both sides holding firm
(Bloomberg) -- The U.S. and China are trying to restart talks aimed at averting a full-blown trade war between the world's two largest economies, two people familiar with the effort said.
Representatives of U.S. Treasury Secretary Steven Mnuchin and Chinese Vice Premier Liu He are having private conversations as they look for ways to reengage in negotiations, according to the people who spoke about the deliberations on condition of anonymity.
They cautioned that a specific timetable, the issues to be discussed and the format for talks aren't finalized, but added there was agreement among the principals that more discussions need to take place.
Negotiations to resolve the dispute have been stalled for weeks, with both sides refusing to budge. High-level U.S. talks on the Trump administration's trade posture toward China are taking place this week, according to a third person who also spoke on the condition of anonymity.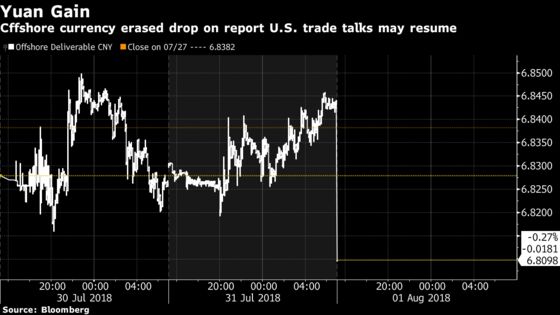 U.S. stocks closed higher as the prospects for an easing in trade tensions lifted industrial shares, with Boeing Co., Caterpillar Inc. and 3M Co. all adding more than 1 percent.
The next wave of U.S. tariffs is set to kick in as soon as Wednesday, with the possible imposition of duties on another $16 billion of Chinese imports. The implementation could be delayed for weeks as the administration works out the details of which products it will target. Officials in Beijing have vowed to respond with the same amount of tariffs on U.S. products.
One person familiar with the internal deliberations said the U.S. is trying to secure certain concessions and if China agrees, it is possible the U.S. would back off additional tariffs.
Complicating Mnuchin's efforts is a harder line taken by U.S. Trade Representative Robert Lighthizer, who has jurisdiction over the U.S.'s 301 investigation that sparked the tariffs. That case concluded China was stealing American technology and tariffs were needed to offset the damage.
A U.S. Treasury spokesman didn't respond to a request for comment.
U.S. and Chinese officials have given little recent indication in public that a restart to negotiations might be in the offing. Lighthizer said last week that trade tensions with China are a "chronic problem," while China's representative at the World Trade Organization accused the U.S. of "extortion."
The two sides held three rounds of formal talks, beginning with a delegation to Beijing led by Mnuchin in May. After Liu visited Washington later that month, the nations released a joint statement pledging to reduce the U.S. trade deficit with China, among other things. But within days, President Donald Trump himself backed away from the deal, saying talks would "probably have to use a different structure."
Negotiations broke off after the Trump administration imposed tariffs on $34 billion in Chinese imports this month, a move the Chinese said would void any promises they'd made in negotiations. Beijing responded in kind with its own tariffs.
Trump's mission to reduce the U.S. trade deficit via the threat of tariffs has brought him into conflict with China as well as U.S. allies, roiling financial markets and raising fears of a global trade war the International Monetary Fund has warned may undermine the strongest economic upswing in years.
Chinese and U.S. officials have struggled to find a starting place for a new round of talks. After taking a hard line on Chinese telecom equipment maker ZTE Corp., the Trump administration this month finished a deal that allowed the company to stay in business. Trump said the pact was a personal favor to Chinese President Xi Jinping.
In exchange for the U.S. letting ZTE survive, Chinese regulators were expected to approve a deal between San Diego-based Qualcomm Inc. and rival chipmaker NXP Semiconductors NV, based in Eindhoven, Netherlands.
Mnuchin was among the Cabinet officials involved in a last-minute effort early last week to get the Qualcomm-NXP deal approved before the companies vowed to walk away from it on July 25, the people said. Mnuchin's efforts were unsuccessful and Qualcomm scrapped its $44 billion bid for NXP.
The people familiar with the U.S.-China dispute said the U.S. has privately expressed dismay to the highest levels of the Chinese government that the deal fell through.
In a sign the trade standoff is reverberating through Chinese politics, the Politburo signaled Tuesday that policy makers will focus more on supporting economic growth amid risks from a campaign to reduce debt and the dispute with Trump.
The communique, which followed a meeting of the country's 25 most senior leaders led by Xi, said the nation's campaign to reduce leverage will continue at a measured pace while improving economic policies to make them more forward-looking, flexible and effective in the second half of 2018.
--With assistance from Andrew Mayeda.
To contact the reporters on this story: Jenny Leonard in Washington at jleonard67@bloomberg.net;Peter Martin in Beijing at pmartin138@bloomberg.net;Saleha Mohsin in Washington at smohsin2@bloomberg.net;Jennifer Jacobs in Washington at jjacobs68@bloomberg.net
To contact the editors responsible for this story: Brendan Murray at brmurray@bloomberg.net, Alister Bull