Euro-Area Economy Gets Higher Inflation But Weaker Growth
A bumper day of euro-area economic releases showed the region's vital signs remain good, if not great.
(Bloomberg) -- A bumper day of euro-area economic releases showed the region's vital signs remain good, if not great.
The region's economic expansion entered a sixth year but growth slowed to just 0.3 percent, the weakest in two years. Inflation accelerated further above the European Central Bank's goal, though that was largely driven by stronger energy prices. Unemployment remained at the lowest since 2008.
| | Period | Actual | Survey | Prior |
| --- | --- | --- | --- | --- |
| GDP | 2Q | 0.3% | 0.4% | 0.4% |
| Inflation | July | 2.1% | 2% | 2% |
| Core inflation | July | 1.1% | 1% | 0.9% |
| Unemployment | June | 8.3% | 8.3% | 8.3% (revised from 8.4%) |
The data confirm what ECB President Mario Draghi foreshadowed last week: Some of the sluggishness in output in the first quarter continued into the second, while underlying price pressures remains generally muted.
But with that assessment came a message of confidence. Policy makers, who are planning to start scaling back stimulus by year end, expect an "ongoing solid and broad-based economic growth" that will bolster wages and produce the right kind of inflation down the line.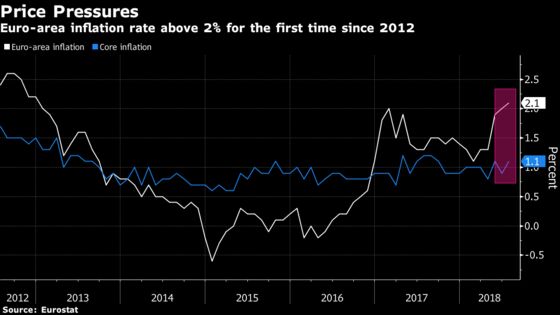 "So far the ECB is putting a brave face on it," said Nick Kounis, an economist at ABN Amro Bank NV in Amsterdam. "They decided to wind down their quantitative-easing program on the basis that they're getting increasingly confident about the macroeconomic environment, so I think that they need to continue to tell that story until they really become worried. But there is still quite a lot of uncertainty."
Investors seem to have given the 19-nation economy the benefit of the doubt. The euro remained higher after the reports, trading up 0.17 percent at 12:12 a.m. Frankfurt time, at $1.1726. The yield on German 2-year notes was little changed at minus 0.58 percent.
What Our Economists Say
"The latest readings on underlying inflation continue to suggest the recovery of the euro-area economy is boosting price pressures. The gradual firming of underlying price increases should continue, with the economy operating only slightly below its trend."
-- David Powell and Jamie Murray, Bloomberg Economics. Check out their EURO-AREA REACT
While domestic demand remains generally healthy thanks to rising wages and employment, global uncertainty over the threat of a trade war seems to have left its mark on the region. The ECB has singled out protectionism as a key risk to the outlook, after exports propelled growth last year to the strongest in a decade.
Confidence in the euro-area economy slipped to its lowest level in almost a year in July, according to a European Commission report on Monday, with manufacturers' export orders and production expectations declining.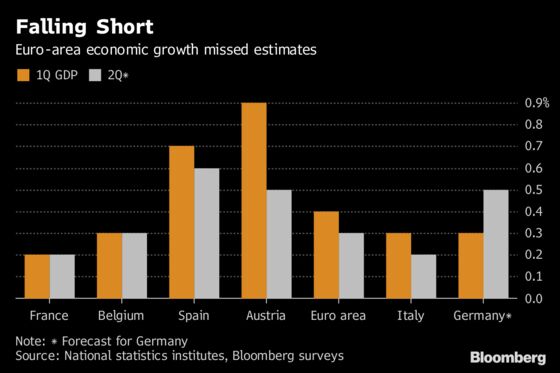 French data show trade weighed on output in the second quarter and consumer spending also fell. Analysts predict the economy will regain some momentum in the second half, a development that would certainly benefit the rest of the bloc. The ECB last week reiterated its forecast for euro-area growth of 2.1 percent this year.
Other highlights from the flurry of releases on Tuesday:
Spain's economy expanded 0.6 percent in the second quarter, slightly below forecasts
Italian growth slowed to 0.2 percent, in line with expectations
Austria's economic expansion almost halved to 0.5 percent
French inflation accelerated to 2.6 percent in July, the fastest in more than six years
Unemployment in Germany kept on falling in July
Italy's jobless rate rose more than expected
German retail sales increased monthly 1.2 percent in June, more than predicted
Retail sales in Greece were up annual 5.3 percent
--With assistance from Kristian Siedenburg and Andre Tartar.
To contact the reporter on this story: Marcus Bensasson in Athens at mbensasson@bloomberg.net
To contact the editors responsible for this story: Fergal O'Brien at fobrien@bloomberg.net, Jana Randow