China Factory Gauge Cools as Trump Trade Tensions Begin to Bite
China's official factory gauge weakened this month as credit conditions tighten.
(Bloomberg) -- China's official factory gauge cooled this month as the impact of trade turbulence with the U.S. on confidence and the currency began to bite.
The manufacturing purchasing managers index fell to 51.2 in July from 51.5 in June and a tad lower than the forecast of 51.3 in a Bloomberg survey of economists. The non-manufacturing PMI, covering services and construction, stood at 54, the statistics bureau said Tuesday, compared with 55 in June. Levels above 50 indicate improvement.
Factories are faced with challenges both at home and abroad, with slower credit growth denting demand and the imposition of the first round of tariffs in the trade war with the U.S. The government last week unveiled a package of fiscal support including tax cuts and acceleration of bond issuance for infrastructure investment, and there are signs the campaign to curb leverage is being softened.
The reading for new orders slipped to 52.3 from 53.2 the previous month, with new export orders remaining in contraction territory at 49.8. Price sub-gauges also dropped.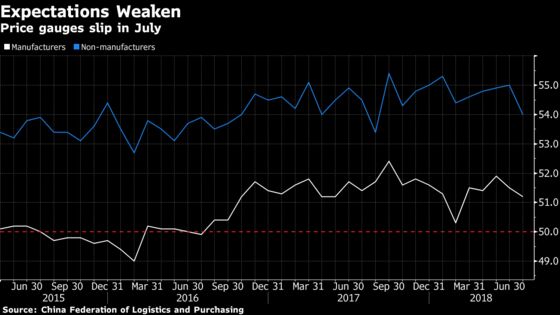 "China was battling two things at the same time in the past six months: domestic deleveraging and rising external trade tensions," Robin Xing, chief China economist at Morgan Stanley Asia Limited, said in an interview on Bloomberg Television. "It's the first data point that shows these trade tensions are starting to weigh on growth."
Slower new export orders and a buildup of inventories underlined that external demand and sentiment are being hurt by ongoing trade tensions, Xing said.
The Trade War Is On: Timeline of How We Got Here and What's Next
The U.S. is expected to keep ratcheting up tariff pressure, and there's little sign of talks on the horizon between the two governments that would alleviate the tension. The next tranche of higher tariffs on a further $16 billion of China's exports to the U.S. could arrive as soon as Aug. 1.
The wider fluctuation of the exchange rate has weighed on exports and imports indices, according to a statement on the National Bureau of Statistics website. More companies in the survey said the movement of the yuan has impacted their production activities, and the export orders and imports of raw materials have declined for some companies because of the rising international trade tensions, it said.
The yuan has declined by more than 6 percent since early June as a stronger dollar combined with signs of a domestic slowdown.
There was respite though for some manufacturers from declining input prices, the statistics bureau said. Price declines were especially evident in the ferrous metals and non-ferrous metal smelting industries, it said.
The moderation in momentum suggested by the PMI readings was foreshadowed in Bloomberg's compilation of early indicators for July.
"The data clearly show a slowdown in economic momentum," said Raymond Yeung, chief greater China economist for Australia & New Zealand Banking Group Ltd. in Hong Kong. "It may justify the more proactive fiscal stance launched last week."
--With assistance from James Mayger, Miao Han, Yinan Zhao and Kevin Hamlin.
To contact Bloomberg News staff for this story: Xiaoqing Pi in Beijing at xpi1@bloomberg.net;Natalie Lung in Hong Kong at flung6@bloomberg.net
To contact the editors responsible for this story: Jeffrey Black at jblack25@bloomberg.net, Malcolm Scott
With assistance from Editorial Board