Global Bond Yields Climb as Investors Await BOJ Policy Review
Global Bond Yields Climb as Anxious Investors Await BOJ Review
(Bloomberg) -- Developed bond markets fell globally before the Bank of Japan's policy decision Tuesday amid speculation the monetary authority will adjust its approach to providing stimulus.
Treasuries sank, pushing 10-year yields to a six-week high, following losses in U.K. and German debt. Yields on benchmark Japanese government bonds due in 2028 rose to an almost 18-month high during Asian hours before the BOJ offered to buy an unlimited amount of securities for the third time in a week.
Traders are betting that Governor Haruhiko Kuroda could permit yields to fluctuate more around the BOJ's zero percent target or remove its current 80 trillion yen ($720 billion) bond-purchase target. The buildup to the decision has reverberated through global markets, pushing up yields and steepening curves, even as many market watchers say the odds of a change at this meeting are low.
The bank's policy is significant for global markets "because the BOJ is regarded broadly as being the most dovish of the doves, and the 10-year JGB yield acts as the absolute floor on 10-year government bond yields around the world," said David Kelly, chief global strategist at JPMorgan Asset Management.
So while the market action is understandable for Kelly, he doesn't see global yields rising much further as he views the likely outcome from the meeting as mostly priced in. He expects the BOJ to move in the direction of allowing more flexibility in long-term rates.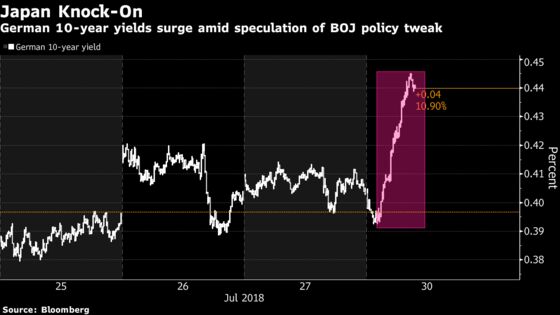 The yield on 10-year Treasuries rose 2 basis points to 2.97 percent Monday, while similar-maturity U.K. notes climbed 6 basis points to 1.34 percent, and the rate on German bunds rose four basis points to 0.44 percent. Japanese 10-year yields ended the day in Asia little changed at 0.10 percent after touching 0.11 percent.
Speculation over BOJ policy helped shake Treasuries out of a tight trading range earlier in July, and coincided with speculators amassing record bets against 10-year Treasury futures. The increase in long-dated yields has also checked the U.S. yield curve's push toward inversion, even though many strategists expect the flattening trend to continue.
While U.S. observers generally don't expect any dramatic moves from the BOJ, "even a small shift in language could have an impact on the marketplace," said Mona Mahajan, a U.S. investment strategist at Allianz Global Investors. "Central banks globally are starting to remove liquidity from the system, and we've said for some time that peak liquidity is probably behind us."
Investors bracing for volatility may want to keep an eye on the clock. BOJ decisions to alter monetary policy tend to take longer on average than when there is no change, according to Bloomberg calculations. The last time the BOJ expanded its monetary easing was on Oct. 31, 2014 -- during a single-day meeting --- and the yen tumbled by about 1 percent within 10 minutes of the release.
In Europe, it could be French and Dutch bonds that are most exposed to any policy tweak, according to Commerzbank AG strategist Christoph Rieger. Japanese investors have large holdings in both, with the attractiveness of euro-area securities getting a boost earlier this year from favorable foreign-exchange dynamics.
"The BOJ decision will be quite important given the significant footprint of Japanese investors in core bond markets," said Rieger, who doesn't expect a fundamental shift in policy. "No major changes to yield curve control tomorrow morning could trigger some relief."
To contact the reporters on this story: John Ainger in London at jainger@bloomberg.net;Emily Barrett in New York at ebarrett25@bloomberg.net
To contact the editors responsible for this story: Ven Ram at vram1@bloomberg.net, Mark Tannenbaum