Tech Advances as Trade Outlook Boosts Manufacturers: Market Wrap
Asia Stocks to Slip After Tech Rout; Dollar Falls: Markets Wrap
(Bloomberg) -- U.S. stocks advanced as trade optimism lifted industrial shares and tech companies staged a recovery. Oil sank and the dollar gained.
The S&P 500 Index capped a fourth monthly gain as Boeing Co., Caterpillar Inc. and 3M Co. all added more than 1 percent after Bloomberg's report that the U.S. and China are trying to restart talks aimed at averting a full-blown trade war. The FANG quartet of megacap tech shares rose as investors awaited Apple Inc.'s earnings following a rout for the sector. Japanese bond yields fell the most since November after the Bank of Japan signaled interest rates will stay low for an "extended period of time."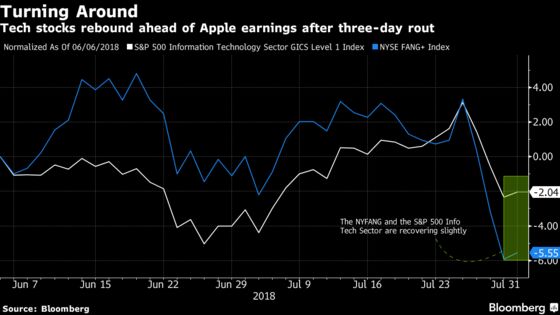 The trade optimism provided relief to investors who have seen the dispute stalled for weeks, with both sides refusing to budge. The next wave of U.S. tariffs is set to kick in as early as Wednesday, with the possible imposition of duties on another $16 billion of Chinese imports. Officials in Beijing have vowed to respond with the same amount of tariffs on U.S. products.
"Listening to all the discussions from earnings in the second quarter, we heard a lot of discussion about how tariffs are impacting business, worries about what it could mean going forward," said Paul Nolte, a portfolio manager at Kingsview Asset Management. "If we can get some type of agreement with China, that would remove a lot of those worries."
Amid a slew of earnings reports this week, central banks remain a key focus for investors. The BOJ delivered a range of adjustments designed to alleviate strains on commercial banks and reduce market distortions from its policies, while simultaneously maintaining its commitment to open-ended stimulus. The next big events this week include decisions from both the Federal Reserve and Bank of England.
Elsewhere, the Stoxx Europe 600 Index advanced as earnings from BP Plc and Credit Suisse Group AG beat forecasts. Government bond yields fell in the U.S. and Europe. Commodities clawed back earlier losses made after China's official factory gauge dropped in July. Crude capped a 7.3 percent drop in July on wagers for higher production. The S&P 500 climbed 3.6 percent in the month, the biggest advance since January.
Terminal users can follow our Markets Live blog here.
Here are some key events coming up this week:
The U.S. Treasury is set to release its funding program for the next three months on Aug. 1.
Earnings season continues with Berkshire Hathaway, Barclays, Tesla, Toyota, BMW, and Rio Tinto among companies reporting results.
Central banks in the U.S., the U.K., Brazil and India all meet this week. The Bank of England is expected to hike even amid Brexit gloom. The Fed is seen standing pat, as is Brazil's central bank. The RBI will probably raise its benchmark.
The U.S. jobs report is on Friday, and is predicted to show a healthy labor market, with 193,000 new jobs, and an unemployment rate slipping back to 3.9 percent.
These are the main moves in markets:
The S&P 500 Index climbed 0.5 percent at the close of trading in New York.
The Nasdaq 100 added 0.5 percent.
The Stoxx Europe 600 Index gained 0.2 percent.
The MSCI Emerging Market Index fell 0.2 percent.
Japan's Topix index declined 0.8 percent for the biggest drop in almost four weeks.
The Bloomberg Dollar Spot Index rose 0.1 percent.
The euro fell 0.1 percent to $1.1697.
The British pound slipped 0.1 percent to $1.3126.
The Japanese yen fell 0.6 percent to 111.76 per dollar, the lowest in more than a week.
The yield on 10-year Treasuries fell one basis point to 2.96 percent.
Germany's 10-year yield was little changed at 0.44 percent.
Britain's 10-year yield fell one basis point to 1.33 percent.
Japan's 10-year yield dipped four basis points to 0.062 percent.
The Bloomberg Commodity Index was little changed.
West Texas Intermediate crude decreased 2.1 percent to $68.68 a barrel.
Copper rose 1.2 percent to $2.8265 a pound, a three-week high.
Gold added 0.3 percent to $1,224.54 an ounce.
--With assistance from Yuko Takeo, Keiko Ujikane, Foster Wong, Andreea Papuc, Cormac Mullen, Ksenia Galouchko, Christopher Anstey, Samuel Potter and Eddie van der Walt.
To contact the reporters on this story: Sarah Ponczek in New York at sponczek2@bloomberg.net;Olivia Schaber in New York at oschaber1@bloomberg.net
To contact the editors responsible for this story: Jeremy Herron at jherron8@bloomberg.net, Brendan Walsh