ECB Keeps to Policy Path to End Bond Purchases
ECB decides to keep rates unchanged at least through summer of 2019
(Bloomberg) -- The European Central Bank stuck to its plan to end bond purchases as the European Union and U.S. stepped back from a trade war and the currency bloc's economic expansion remained solid.
The Frankfurt-based institution reiterated it will continue buying 30 billion euros ($35 billion) of assets a month until the end of September, reduce the pace to 15 billion euros from October, and stop additional purchases at the end of the year.
It also pledged to keep interest rates unchanged "at least through the summer of 2019," and repeated that additional support will come from its policy of reinvesting maturing debt. Attention now turns to President Mario Draghi's press conference at 2:30 p.m. in Frankfurt.
Read real-time analysis of the ECB meeting in our TOPLive blog
The euro held steady, trading little changed at $1.1713 at 2:09 p.m. Frankfurt time.
The decision comes a day after European Commission President Jean-Claude Juncker and U.S. President Donald Trump agreed to work toward lowering barriers to transatlantic commerce. That pulled them back from the brink of a trade spat that would have seen levies imposed on American imports of European cars.
Draghi has singled out rising protectionism as the main risk for the euro area's expansion, a sentiment echoed on a global level by economic leaders gathered for a Group of 20 meeting in Buenos Aires last weekend.
"Downside risks to the outlook mainly relate to the threat of increased protectionism. A strong and united European Union can help reap the benefits of economic openness while protecting its citizens against unchecked globalization."
-- Draghi at European Parliament in Brussels on July 9
Those concerns might be held at bay for now as political leaders, who have seen confidence in the euro-area economic outlook decline in recent months, explore the grounds for a deal.
In the meantime, domestic momentum in the region is showing signs of recovery after a slowdown earlier this year, with lending to companies gaining the most in nine years in June and consumer confidence well above its long-term average.
The ECB president is likely to be questioned about some of the policy details he left open during his last press conference in June.
Investors have puzzled over the time frame implied by the ECB's forward guidance on interest rates, and the confusion has been further amplified by revisions to official translations of the statement, which seem to give slightly different interpretations of what the phrase "at least through the summer" means.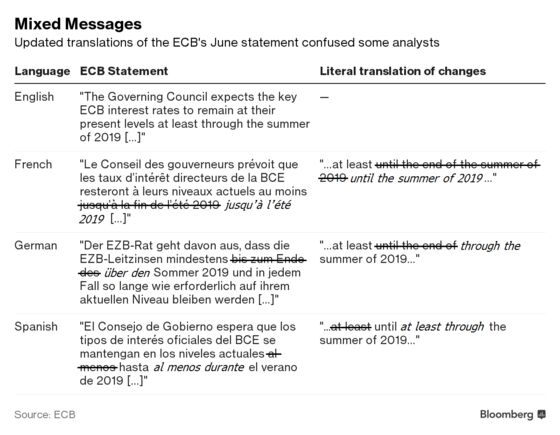 Economists surveyed by Bloomberg predict a rate hike in September or October next year, just before Draghi's term ends on Oct. 31. Markets don't fully price in a 10 basis-point increase until the end of 2019.
| ECB interest rates | Current level |
| --- | --- |
| Deposit rate | minus 0.4 percent |
| Main refinancing rate | zero |
| Marginal lending rate | 0.25 percent |
Investors are also looking for information on how the ECB will handle bond redemptions once it no longer buys new assets. That reinvestment strategy will be their key focus until interest rates begin to rise. Bloomberg reported in June that some of the current guidelines could be revised.
--With assistance from Piotr Skolimowski, Zoe Schneeweiss, Catherine Bosley, Craig Stirling, Fergal O'Brien, Brian Swint, Iain Rogers, Chad Thomas, Lukas Strobl, Martin M. Sobczyk, Lucy Meakin, Jill Ward, Elizabeth Burden, Kevin Costelloe, Alessandro Speciale, Andre Tartar and Kristian Siedenburg.
To contact the reporter on this story: Carolynn Look in Buenos Aires at clook4@bloomberg.net
To contact the editors responsible for this story: Paul Gordon at pgordon6@bloomberg.net, Jana Randow