Global Growth Less Synchronized, More Uncertain, G-20 Draft Says
(Bloomberg) -- Global economic growth is less synchronized and faces increasing threats, including from trade tensions, according to a draft statement from the Group of 20 leading economies obtained by Bloomberg News.
"Downside risks over the short and medium term have increased," said the document. A final version of the statement will be published on Sunday.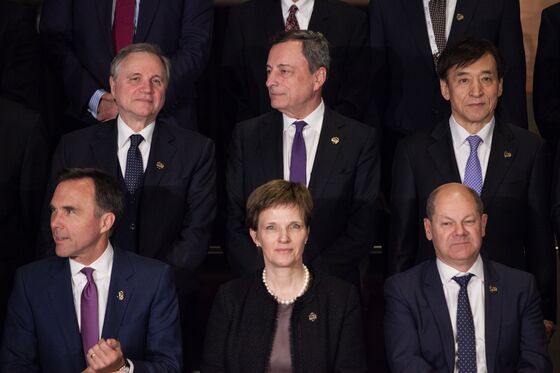 Among the other risks to global growth, the text cites "rising financial vulnerabilities, heightened trade and geopolitical tensions, global imbalances, inequality." The G-20's March statement didn't exclusively mention trade tensions.
While emerging markets are better prepared, they still face market volatility and possible capital outflows, the draft says. Pledges made by G-20 member nations in their March statement to refrain from competitive devaluations were removed from the draft statement. According to Canadian Finance Minister Bill Morneau the issue didn't come up on Saturday.
The finance ministers and central bank chiefs of the 20 largest economies have been meeting in the Argentine capital this weekend. U.S. President Donald Trump had raised the prospects of an intense debate on Friday with his tweets on trade and currency that accused the European Union and China of weakening their currencies to obtain trade benefits.
Australian Treasurer Scott Morrison said Trump had an unconventional but understandable approach to push for free trade.
"There are some grievances that have been around for a decade, Morrison said in an interview with Bloomberg News at the G-20 summit. "There is legitimate frustration about the failure of the system to resolve the issues that concern the U.S. and others."
To contact the reporters on this story: Theophilos Argitis in Buenos Aires at targitis@bloomberg.net;Walter Brandimarte in Buenos Aires at wbrandimarte@bloomberg.net
To contact the editors responsible for this story: Raymond Colitt at rcolitt@bloomberg.net, ;Vivianne Rodrigues at vrodrigues3@bloomberg.net, Randall Woods