Stocks Cap Quarter With Gains, Dollar Slumps: Markets Wrap
Asia Stocks to Gain, Dollar Slips With Treasuries: Markets Wrap
(Bloomberg) -- Stocks eked out a gain amid late selling to cap a quarter that's seen equities whipsawed by escalating trade tensions and central-bank hawkishness. Treasuries fell and the dollar slipped.
The S&P 500 Index rose for a third straight month, though the index gave back more than three-quarters of a gain that neared 1 percent, with the retreat heaviest in the final 15 minutes of trading. Nike Inc. rose the most on record after reporting results, but the gain was not enough to drag the Dow Jones Industrial Average to an advance for June. The dollar pared a third straight monthly advance. The euro rose the most in a month and Italian 10-year government bonds rose. European equities pared a monthly loss. Ten-year Treasury yields rose to 2.85 percent, where they ended May.
Investors looked for reasons to cheer at the end of a volatile quarter overshadowed by trade tensions and political risk. Trump's reported threat to leave the World Trade Organization rattled markets before the U.S. open, but his Treasury secretary later walked back the statements. It's still too early to tell how long the European Union's united front and the respite in the yuan's decline will last, for now the risks to financial markets appear to have eased.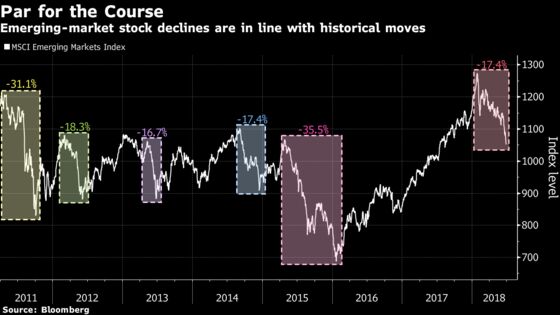 Emerging-market stocks rallied Friday to shave a fifth monthly loss. The group is down almost 8 percent in 2018. Shares in Hong Kong and Shanghai led an advance in Asia earlier. The offshore yuan rose, halting an 11-day decline that was triggered by concern about Chinese policy makers' intentions. Crude rallied to $74.10 in New York, while Brent jumped toward $80 a barrel.
Terminal users can read more in Bloomberg's Markets Live blog.
These are key events coming up for the remainder of this week:
China manufacturing and non-manufacturing PMI are due on Saturday.
Here are the main market moves
The S&P 500 rose 0.1 percent to 2,718.38 at 4 p.m. in New York. It rose 0.5 percent in June.
The Russell 2000 Index was flat, but capped a fourth monthly advance. The Dow Jones Industrial Average pared a loss in June as Nike rallied.
The Stoxx Europe 600 Index advanced 0.8 percent.
Japan's Nikkei 225 Stock Average jumped 0.2 percent.
The Shanghai Composite Index surged 2.2 percent.
The Bloomberg Dollar Spot Index sank 0.5 percent.
The euro climbed 0.9 percent to $1.1678.
The British pound climbed 0.9 percent to $1.3194.
The Japanese yen fell 0.2 percent to 110.754 per dollar.
Germany's 10-year yield fell one basis point to 0.31 percent.
Britain's 10-year yield advanced two basis points to 1.272 percent.
The yield on 10-year Treasuries rose one basis point to 2.85 percent.
West Texas Intermediate crude rose 1.2 percent to $74.34 a barrel.
Brent crude climbed 2 percent to $79.44 a barrel.
Gold futures added 0.2 percent to $1,253.80 an ounce.
--With assistance from Srinivasan Sivabalan, Adam Haigh and Joe Easton.
To contact the reporter on this story: Jeremy Herron in New York at jherron8@bloomberg.net
To contact the editors responsible for this story: Christopher Anstey at canstey@bloomberg.net, Robert Brand