Trade War Could Trigger Global Recession, China and Europe Warn
Both sides 'firmly oppose' unilateralism, Xi aide Liu He says
(Bloomberg) -- China and the European Union vowed to oppose trade protectionism in an apparent rebuke to the U.S., saying unilateral actions risked pushing the world into a recession.
Vice Premier Liu He -- President Xi Jinping's top economic adviser -- said China and the EU had agreed to defend the multilateral trading system, following talks Monday in Beijing. The comments, made at a press briefing with European Commission Vice President Jyrki Katainen, come as both sides prepare to face off against President Donald Trump's tariff threats.
"Unilateralism is on the rise and trade tensions have appeared in major economies," Liu said. "China and the EU firmly oppose trade unilateralism and protectionism and think these actions may bring recession and turbulence to the global economy."
Both China and the EU are coming under pressure from Trump, as the U.S. president seeks to remake a global trading system that he sees as rigged against the world's largest economy.
After months of rhetoric and threats, the trade fight seems to be coming to a head, with Europe imposing tariffs on $3.3 billion of American products Friday in response to U.S. barriers on imports of aluminum and steel. That triggered threats of further tariffs on European cars from Trump.
Later this week, the U.S. Treasury Department is expected to release fresh rules on Chinese investment in technology companies, Bloomberg reported on Monday, putting additional pressure on China -- which hit back against the plans. Chinese investment has provided jobs and tax income for the U.S., and it should view commercial activities "objectively," Foreign Ministry spokesman Geng Shuang told reporters in Beijing on Monday.
The U.S. is due to impose tariffs on $34 billion of Chinese imports from July 6, and Trump has threatened to impose levies on another $200 billion of Chinese goods. If that threat is realized, it could cut as much as half a percentage point off China's economic growth, and also hit the American economy, economists have said.
Anxiety over the economic fallout is cutting deep in financial markets, with China's yuan sliding to a six-month low Monday. The S&P 500 Index fell to the lowest since May and the Dow Jones Industrial Average sank for the ninth time in 10 sessions.
As if to reinforce concerns about the economic outlook, the Dutch Bureau for Economic Policy Analysis on Monday published its latest trade monitor, showing world trade momentum dropped in April to the lowest since 2015. The measure has fallen sharply since hitting a seven-year high at the start of 2018.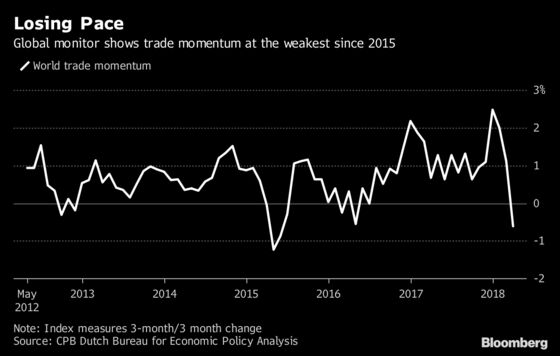 Read more on the trade fight:
Trump's Auto Tariff Threat Against Europe Puts Asia on Notice 
Tough Talk Turns Into Tariffs in Trade-War Evolution: Timeline
As the conflict over trade has intensified, China has sought to align itself with Europe as a way of pushing back against the U.S. Both sides agreed in Monday's talks to promote globalization and forged a consensus on climate change, Liu said.
But despite their alignment against the U.S. trade threat, the EU and China remain at odds over issues including the lack of reciprocal access for European firms and the EU's reluctance to endorse China's Belt and Road trade and infrastructure program. As China steps up its engagement in Europe, the EU, too, is working on measures to tighten screening of outside investments to protect critical technologies and infrastructure.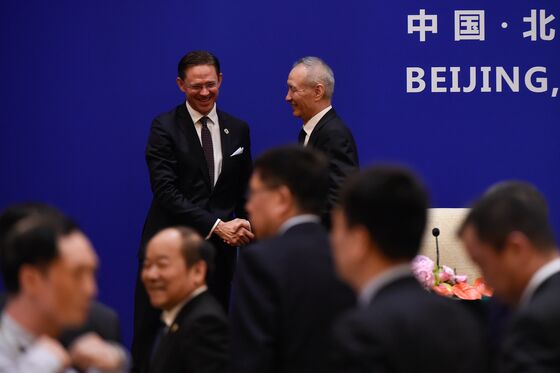 A survey released last week by the European Union Chamber of Commerce in China showed that a slim majority of members thought foreign-invested companies are treated unfairly, and almost two-thirds see a lack of reciprocity between the access to China's markets that they get, and the access Chinese companies get to Europe.
China and the EU will exchange offers related to market access at an upcoming summit in July, Liu said Monday. He also said both sides agreed to connect the Belt and Road initiative to the EU's development strategies.
The EU and China agreed to set up a working group to update the WTO to better equip it for the contemporary world, Katainen said at a press conference late Monday in Beijing. While the details have yet to be decided, the EU hopes the working group is at vice-minister level, he said.
In what Katainen described as "a big step forward," the two sides will also exchange a list regarding a bilateral investment agreement at the upcoming summit. Still, that doesn't mean the accord will be reached immediately, with different views outstanding on overcapacity, forced technology transfer and cyber security, he said.
--With assistance from Miao Han.
To contact Bloomberg News staff for this story: Peter Martin in Beijing at pmartin138@bloomberg.net;Dandan Li in Beijing at dli395@bloomberg.net
To contact the editors responsible for this story: Brendan Scott at bscott66@bloomberg.net, Daniel Ten Kate, Emma O'Brien
With assistance from Editorial Board