End of Putin's Middle Class Boom Turns Savings Into a Luxury
(Bloomberg) -- Even setting money aside is becoming a luxury affordable to few Russians in an economy struggling to recover as incomes stagnate.
The ability to save marks the latest line dividing Russia's haves and have-nots following the country's longest recession this century, with less than a fifth of the population seeing themselves as part of the middle class. The result is that the share of incomes held as savings is now near the lowest since President Vladimir Putin came to power in 2000, even though surveys suggest every fourth person says the time is now right to stash away money.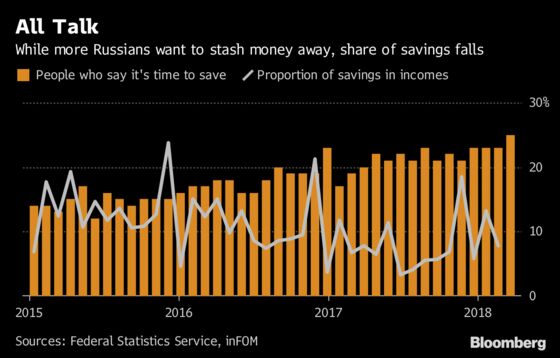 "People understand it's good to save, but they just don't have enough resources," said Marina Krasilnikova, head of the department on research into consumption and living standards at the Levada Center in Moscow. "Incomes go toward consumption, which was postponed for a long time."
Making matters worse, data on Wednesday showed growth in real wages and disposable incomes slowed more than forecast in May. That's forcing people to go into debt to keep up spending after years of cutting costs. Last quarter, wholesale and retail trade made zero contribution to the 1.3 percent expansion in gross domestic product.
| | | |
| --- | --- | --- |
| Annual performance | May | April |
| Retail sales | 2.4% | 2.7% |
| Real wages | 7.3% | 7.6% |
| Unemployment | 4.7% | 4.9% |
| Real disposable income | 0.3% | 5.7% |
The plight of Russian households has Putin's attention. Re-elected in March for a record fourth term in the Kremlin, the president ordered his government to cut poverty in half by 2024 and deliver a "decisive breakthrough" in living standards.
Among major economies, only the U.S. now has a concentration of household wealth in the hands of the richest 10 percent comparable to Russia's, according to Credit Suisse Group AG.
In a sign of widening disparity, only deposits of 1 million rubles ($15,700) or more grew in volume during the first quarter, data from the state's Deposit Insurance Agency show. That compares with an average savings account of 167,600 rubles as of April 1. Almost two-thirds of Russians say their families don't have savings, but more than half of respondents still want to put away any extra money, according to a poll conducted for the central bank in May.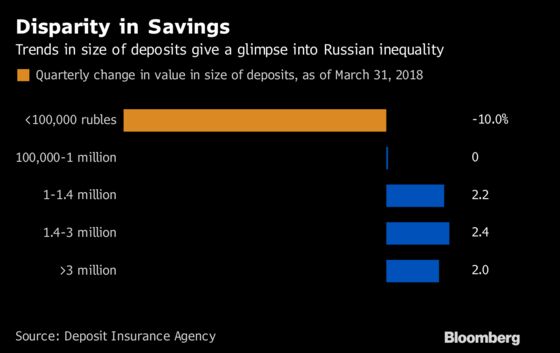 While growing inequality has dogged Russia since the Soviet collapse more than a quarter century ago, enough wealth trickled down during the oil boom years to double the middle class to more than 60 percent of the population and turn consumer demand into the engine of the economy.
But now only 19 percent consider themselves middle class, meaning they can afford purchases such as furniture and household appliances, according to the NAFI research center.
What Our Economists Say...
There's just no hope of a sharper pick-up in demand when the recovery in incomes remains frail. Faster inflation will squeeze households further later this year. 
--Scott Johnson, Bloomberg Economics
Russians need to earn at least 60,000 rubles a month -- almost 37 percent more than the average nominal wage in May -- to be considered middle class, according to the domestic rating company ACRA. That's under the assumption that people in that group can purchase all necessary goods, travel abroad, save money, and be able to take out a car loan and a mortgage, it said.
"Any growth in wages probably won't go toward savings," said Svetlana Misikhina, deputy director of the Development Center at the Higher School of Economics in the Russian capital. "For those who tightened belts and tapped into their savings to survive these years, it appears they still aren't able to start putting money away."
--With assistance from Zoya Shilova.
To contact the reporter on this story: Olga Tanas in Moscow at otanas@bloomberg.net
To contact the editors responsible for this story: Gregory L. White at gwhite64@bloomberg.net, Paul Abelsky, Tony Halpin