China's Pacific Islands Push Has the U.S. Worried
China's Pacific Islands Push Has the U.S. Worried
(Bloomberg) -- In the gritty, steamy streets of Papua New Guinea's capital Port Moresby, signs of China's push into the Pacific island nation are inescapable.
A Chinese worker stencils a logo for China Railway Group outside the new national courthouse it's building; China Harbor Engineering Group laborers tar roads under the searing midday sun.
"Little by little they are taking slices of our businesses," said Martyn Namorong, who campaigns to protect local jobs and communities as China ramps up infrastructure spending in the resource-rich nation, often bringing its own workforce. "My people feel we can't compete."
The nation of 8 million people is the latest frontier in Beijing's bid for global influence that's included building artificial reefs in the South China Sea, a military base in Africa and an ambitious trade-and-infrastructure plan spanning three continents.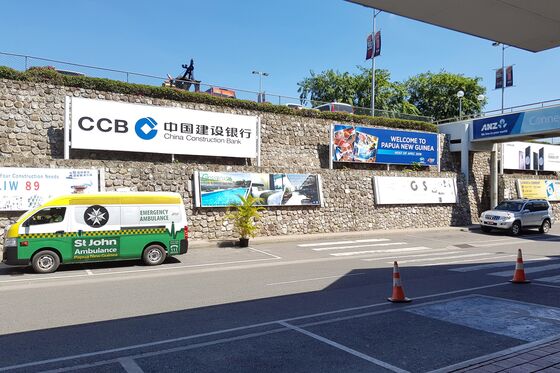 China's thrust into the Pacific islands region, a collection of more than a dozen tiny nations including Fiji, Niue and Timor Leste scattered across thousands of miles of ocean, has the U.S. and its close ally Australia worried. The region played a key role in World War II and remains strategically important as Western powers seek to maintain open sea lines and stability. For Beijing, it offers raw materials, from gas to timber, and a clutch of countries who could voice support for its territorial claims.
"We've seen a huge surge in China's state-directed economic investment and mobilization of an enormous amount of capital in the Pacific which clearly has a strategic intent," said Eric B. Brown, a senior fellow in Asian affairs at Washington-based think tank the Hudson Institute. "The sovereignty of these nations could be compromised by these predatory economic methods. And that could create a military threat to countries such as Australia and effect the ability of the U.S. Navy and its allies to maintain freedom and order in the Pacific."
China's lending practices related to the Belt and Road Initiative have raised concerns among the International Monetary Fund and the Trump administration that poorer countries wouldn't be able to repay heavy debts. Sri Lanka is considered an example of what could go wrong for developing nations: China received a 99-year lease for a strategic port after the government in Colombo couldn't repay loans.
Indeed China has overtaken Japan as Papua New Guinea's largest bilateral creditor and by the end of the year PNG will owe it about $1.9 billion in concessional loans — almost a quarter of its total debt burden. Standard & Poor's in April lowered the nation's sovereign credit rating to B from B+, citing rising costs of servicing debt that's climbed above 30 percent of gross domestic product and is expected to reach about 40 percent by 2021.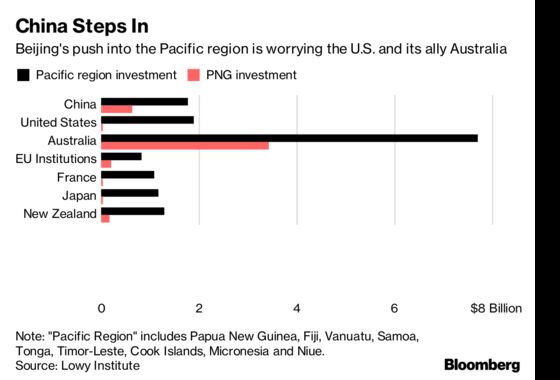 The IMF warns that other recipients of Chinese money in the region — tiny nations such as Samoa, Tonga and Vanuatu — have moderate to high risks of debt distress.
While the largess flowing into the Pacific from Beijing is a fraction of the $350 billion of Chinese aid distributed globally since 2000, it's still big money for the nations, most with populations under 1 million. In April, the French Polynesian government approved construction of a $320 million Chinese fish farm.
Hugh White, a professor of strategic studies at the Australian National University in Canberra, says "there's no doubt" China could seek to establish a military presence in the Pacific in the future, cashing in its influence with "one of these small, vulnerable states."
"It intends to become the primary power in east Asia and the western Pacific," White said.
Governments in the region have sought to strike a balance between accepting China's cash and resisting moves that would raise concern among Western military powers. Vanuatu in April denied media reports that China had approached it to build a permanent military base in one of its harbors.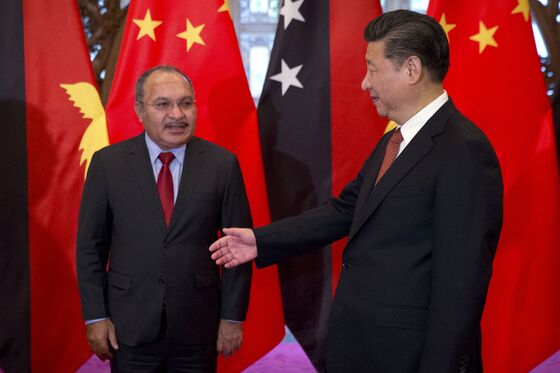 The office of PNG's Prime Minister Peter O'Neill, who's due to meet President Xi Jinping in China later this week, didn't reply to repeated requests for comment. When O'Neill visited Beijing in 2016, he pledged support for China's military build up in the South China Sea. In December, a month after China promised to construct $3.5 billion of roads, O'Neill said PNG will continue to be a "staunch partner."
Beijing's push into the Pacific islands risks further straining ties with key trading partner Australia — which views the region as its own diplomatic backyard and has been increasingly critical of China's economic and military muscle-flexing.
During a visit to the region this month, Foreign Minister Julie Bishop said "we want to continue to be the partner of choice for nations in the Pacific." Her government on June 13 signed an agreement to build a new undersea telecommunications cable to the Solomon Islands, squeezing out a bid by China's Huawei Technologies Ltd.
Papua New Guinea has traditionally looked to Australia — from which it won independence in 1975 — for a helping hand. Outside of the capital, the nation's woeful roads network has helped push prices of food staples beyond what many can afford. It's also struggling with an illiteracy rate of 35 percent, poor tax collection and endemic corruption.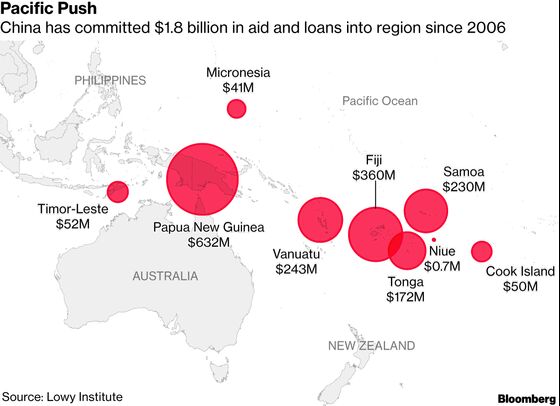 Australia is still its largest donor, contributing more than three-quarters of total aid and loans compared to China's 14 percent. Yet the majority is directed to improving corporate governance, while Beijing has focused on infrastructure and major works.
Nursing a cool drink at a sports club in Port Moresby, British-born business adviser Paul Barker said China was stepping into a vacuum left by the west.
"The government in Beijing has rolled out the red carpet and our leaders seem to be a bit intoxicated by the experience," said Barker, who's lived in his adopted nation for more than four decades.
Australia's assistant trade minister Mark Coulton acknowledged the merits of China's investment as he sat in one of Port Moresby's few five-star hotels near the Beijing-gifted convention center where APEC leaders will meet in November.
"You can't deny your neighbor if someone is looking to build something they really need," he said. "Our role is to give the PNG government and people the ability" to "handle influxes of foreign aid like those that are now occurring."
China's foreign ministry, which didn't respond to a request for comment, in April said Pacific island nations weren't in the "sphere of influence of any country" and called on Australia not to interfere.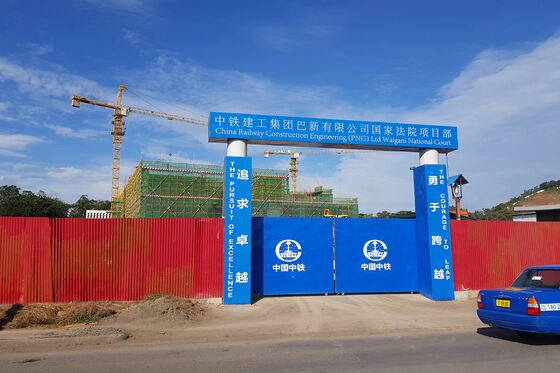 Wang Dong, an international relations professor at Peking University, dismissed concerns that large concessional loans leave nations vulnerable to "debt-trap diplomacy" and said China's expanded role in the Pacific is a natural consequence of its growing economic clout.
"It's scaremongering to think this will lead to any military design or ambition in the Pacific," Wang said in a phone interview from Beijing. "We will see China increase its presence there and it will keep helping these countries build their infrastructure."
China is in the region to stay, said Jonathan Pryke of the Lowy Institute, a Sydney-based think tank.
"China has entered the Pacific in a significant way," said Pryke. "It's upended the status quo and caused anxiety, because no-one knows what its end-game is."
To contact the editor responsible for this story: Ruth Pollard at rpollard2@bloomberg.net, Edward Johnson "Ed"
Get Your
Daily Newsletter
Get market moving news, top news & compelling perspectives
---