Argentina Woes Seep Across Emerging Markets as Thai Baht Sinks
(Bloomberg) -- A drop in the currency of Thailand, a country with solid growth and a sizable current-account surplus, showcased how pressures are rising on developing nations.
The baht headed for its biggest loss in a decade, a blow to one of the few emerging-market currencies that gave investors carry returns this year. It was swept up by a storm fueled by Argentina's peso, which tumbled more than 6 percent on Thursday after Federico Sturzenegger resigned unexpectedly as central bank chief, underlining the challenges faced by a country grappling with years of economic mismanagement. The peso recouped some of those losses today.
Countries with strong fundamentals such as Thailand aren't immune from selloffs elsewhere, said Jitipol Puksamatanan, a Bangkok-based strategist at Krung Thai Bank. Such pressure is likely to stay until at least the next quarter, he said.
Argentina's woes, together with gains in the dollar that were fueled Thursday by a more-dovish-than-expected European Central Bank and rising tension between the U.S. and China over trade, set a negative tone for emerging markets on Friday. South Korea's won retreated as much as 1.4 percent and the MSCI Emerging Markets Currency Index fell for a fourth day to its weakest this year.
MSCI's emerging-market stock index extended its drop to a third day after President Donald Trump approved tariffs on Chinese goods worth about $50 billion, said a person familiar with the decision, reigniting a confrontation on trade with Beijing. Chinese stocks, which account for about 28 percent of the gauge, dropped 0.8 percent.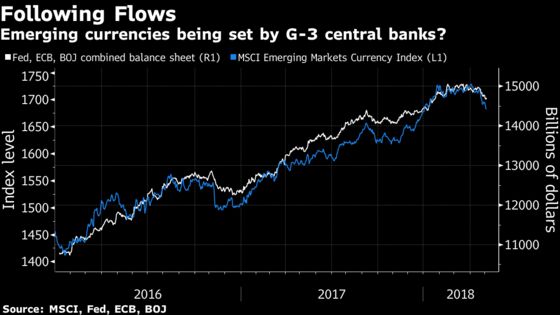 While most strategists see developing Asian economies as resilient due to world-leading growth rates, the market moves illustrate the broader impact of key central banks rolling back crisis-era stimulus. The Federal Reserve and ECB this week both took steps forward in policy normalization. Russia's ruble pared a decline after the central bank extended a pause in monetary easing and said its shift to looser policy needs to be slower.
There isn't an obvious contagion effect between Argentina and Asia, but the moves may be symptomatic of the G-2's tapering in asset purchases, said Patrick Bennett, head of macro strategy for Asia at Canadian Imperial Bank of Commerce in Hong Kong.
"The taper tantrum was five years ago," he noted, referring to the wallop to countries from Indonesia to Turkey from the Fed's warning on reducing quantitative easing. "It's been a very long runway for people to become aware of what the situation may be."
The rising dollar has pushed yield premiums on emerging-market bonds over Treasuries, as measured by the JPMorgan EMBI Plus Sovereign Spread index, close to 400 basis points, the highest since November 2016.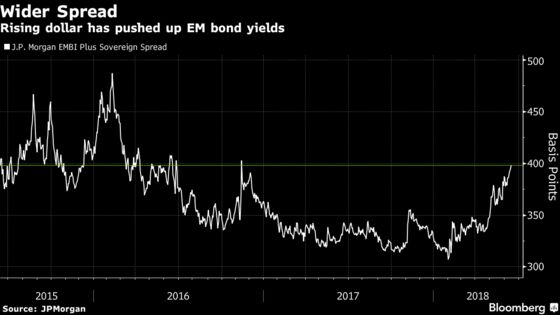 There are still plenty of emerging-market optimists. Asian and developing-nation stocks are in the middle of a "long bull market" and the recent declines present buying opportunities, with developing-nation lenders looking particularly attractive, Bank of America Merrill Lynch analysts said in a note on Friday.
The drop in Asian currencies on Friday was driven by euro weakness, aiding the dollar, said Shigehisa Shiroki, joint general manager of treasury at Mizuho Bank Ltd. in Bangkok. With most Southeast Asian markets closed for holidays, the rupiah, ringgit and peso are likely to play catch-up next week.
"Emerging currencies as a whole will be under pressure," Shiroki said. "Those that have weaker fundamentals, such as current-account deficits, dollar-funding risks and weak reserve positions, will probably be hit the hardest."
--With assistance from Alec D.B. McCabe and George Lei.
To contact the reporters on this story: Yumi Teso in Bangkok at yteso1@bloomberg.net;Gregor Stuart Hunter in Hong Kong at ghunter21@bloomberg.net
To contact the editors responsible for this story: Christopher Anstey at canstey@bloomberg.net, Andrew Janes