PBOC Seen Mirroring Fed With Hike While Keeping Other Taps Open
A majority of 31 economists said the PBOC will increase rate on reverse-repurchase agreements by five basis points.
(Bloomberg) -- The People's Bank of China will raise borrowing costs in the open market if the U.S. Federal Reserve decides to increase rates this week, according to a Bloomberg survey.
A majority of 31 economists said the PBOC will increase by five basis points the rate it charges on reverse-repurchase agreements, which guide funding costs in financial markets, after the Fed's expected tightening. That decision is due to be announced around 2:00 a.m. Beijing time on Thursday, with a potential PBOC step coming as early as that day.
Meanwhile, a similar share of economists said the PBOC will further lower reserve-requirement ratios in the second half of this year, the survey showed. Such a move would release liquidity into the financial system, helping lenders meet a string of repayment obligations in the coming months.
The prospect of the central bank tightening with one hand and loosening with the other shows the multiple targets that the PBOC is currently trying to reach: It wants to ensure enough funding to the real economy to manage a nascent slowdown, keep up the pressure on banks to curb leverage, and maintain a steady interest-rate differential with the U.S.
The central bank is facing a "trade-off" during deleveraging and it has to adjust policies constantly as the situation changes, said Xia Le, chief Asia economist at Banco Bilbao Vizcaya Argentaria SA in Hong Kong. "It has to ease slightly when companies feel the squeeze, and raise borrowing costs again if the financial sector resumes adding leverage."
He said the overall policy is moving to "neutral and even to a slightly easing bias" from the previously tight stance.
Investors anticipate the Federal Reserve will increase its benchmark lending rate by a quarter-point to a range of 1.75 percent to 2.0 percent when it meets Wednesday. Moving in step with the U.S. prevents the yuan from weakening further against a strong dollar, and it keeps the spread between China's 10-year government bonds and Treasuries in a comfortable range -- fending off capital repatriation and supporting foreign investors' demand for domestic Chinese bonds.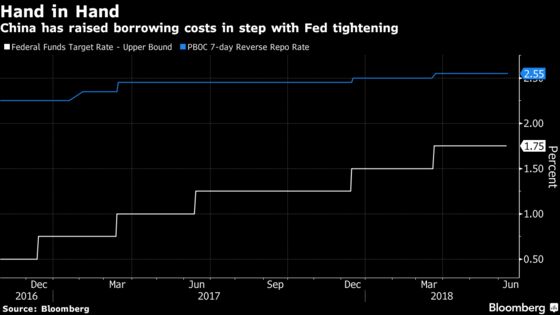 Not hiking would be a strong signal of an easing stance, according to Xia. Speculation about just such a stance grew recently when authorities cut reserve ratios and adjusted the collateral rules for the central bank's medium-term funding tool.
Read More: PBOC Acts to Ease Liquidity Strains as Fed, Debt Curbs Take Hold
More than one third of the economists in the survey said the PBOC's monetary policy stance isn't clear, despite the official "prudent and neutral" orientation.
"Higher rates are needed to alleviate potential depreciation pressure on the yuan" while ample liquidity is necessary to avoid a funding squeeze, said Amy Zhuang, senior analyst for Asia at Nordea Markets.
As the bank lending rate for individuals and businesses rises and bond defaults increase under the deleveraging campaign, authorities are tweaking the debt containment strategy to "set differential requirements" for different sectors, according to a statement released after an April meeting presided over by President Xi Jinping. In May the PBOC changed a policy target to "restructuring" from "deleveraging," in a report in which it reviewed and previewed its policy stance.
Credit data in May suggest the deleveraging efforts may have already taken a toll on the economy. The sagging data may "drive policy changes in the next couple of months", Lu Ting, chief China economist at Nomura International Ltd in Hong Kong.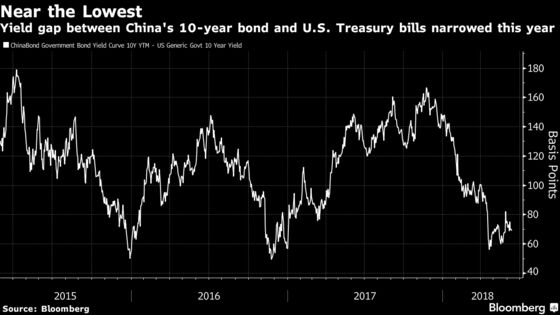 "What the central bank is doing now is structural easing," as it could be raising interest rates while keeping liquidity loose with RRR cuts and loans through the Medium-term Lending Facility, said Ming Ming, head of fixed-income research at Citic Securities Co. in Beijing.
The twin aims aren't conflicting - they complement each other, and they come in sequence, the former PBOC official said.
"It doesn't matter if the PBOC raises interest rates or not this time -- the easing stance of monetary policy in terms of the quantity of funds will not change," he said. "Instead, more attention should be given to RRR cuts and MLF operations in the future as they have greater influence over the money market and the interest rate curve."
To contact Bloomberg News staff for this story: Yinan Zhao in Beijing at yzhao300@bloomberg.net;Cynthia Li in Hong Kong at cli205@bloomberg.net;Jing Zhao in Beijing at jzhao231@bloomberg.net
To contact the editors responsible for this story: Jeffrey Black at jblack25@bloomberg.net, James Mayger
With assistance from Editorial Board
Get Your
Daily Newsletter
Get market moving news, top news & compelling perspectives
---