China Imposes Anti-Dumping Duties on Brazil Chicken Products
China Imposes Anti-Dumping Duty on Brazilian Chicken Products
(Bloomberg) -- China plans to impose anti-dumping duties on purchases of broiler-chicken products from Brazil, the country's top supplier, citing a 10-month investigation that said surging imports damaged the domestic breeding industry.
Importers will pay a deposit of as much as 38.4 percent to Chinese customs on purchases effective Saturday, the Ministry of Commerce said in a preliminary ruling following initial findings from an investigation that started in August. Supplies from BRF SA are subject to a 25.3 percent rate and an 18.8 percent duty will be imposed on goods from JBS SA subsidiaries, according to a list published by the ministry. The companies are Brazil's top chicken producers.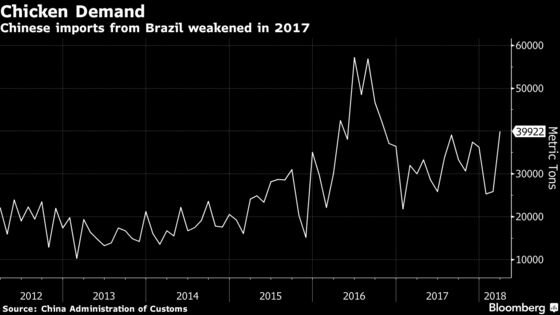 The tariffs will reduce exports from Brazil and may lead to more U.S. imports once China and the Trump administration improve trade relations, said Kong Pingtao, general manager at Beijing Pro-Agri Communication Co. In February, China lifted extra duties on U.S. chicken imports, although shipments are still banned amid bird-flu concerns.
The duties are not expected to halt Brazil's exports to China because of ample demand in the Asian nation, but they may inhibit growth for shipments, Ricardo Santin, a director at industry group ABPA, said Friday in a telephone interview.
Brazilian companies are weighing a minimum price deal with China, though a complaint at the World Trade Organization (WTO) is also being considered, he added. Earlier, the group said in a statement the duties signal a "regression" in trade relations.
BRF, which has struggled with an export ban from Europe after a food-safety scandal, fell 7.5 percent in Sao Paulo, the second-worst performance among companies in Brazil's benchmark Ibovespa index. By contrast, JBS rose 4.1 percent, the most among global peers. JBS, the world's largest meat producer, also has chicken operations in the U.S., Mexico and Europe.
Both companies declined to comment on the duties.
China's imports of frozen chicken and products from Brazil fell 22 percent in 2017 to 382,052 metric tons worth $876 million, according to Chinese customs data. The Asian country is the world's biggest consumer after the U.S.
--With assistance from Gerson Freitas Jr..
To contact Bloomberg News staff for this story: Niu Shuping in Beijing at nshuping@bloomberg.net;Tatiana Freitas in São Paulo at tfreitas4@bloomberg.net
To contact the editors responsible for this story: Phoebe Sedgman at psedgman2@bloomberg.net, ;Simon Casey at scasey4@bloomberg.net, Millie Munshi, Steve Stroth
With assistance from Editorial Board