Dollar Is Driving Some Carry-Trade Returns Despite Volatility
The carry trade is back, at least among developed-nation currencies, and that's thanks to a surging dollar.
(Bloomberg) -- The carry trade is back, at least among developed-nation currencies, and that's thanks to a surging dollar.
The popular investing strategy generated its best cumulative total returns of the year last week, just as political discord in Europe spurred a flight to safety. That was a comeback from February, when the trade posted its poorest returns since 2016, according to a Bloomberg index.
Market conditions don't seem to favor the carry trade these days. In the strategy, investors borrow low-yielding currencies, to buy ones with a higher yield.
Typically, the trade performs best in a low-risk and low-volatility regime, when lower-yielding currencies weaken and high-yield currencies appreciate. The current environment is nearly the opposite, as geopolitical turmoil over the past week, emanating from Italian politics and rising global trade tensions, boosted currency volatility to multi-month highs and supported low-yield, haven currencies such as the yen.
But that hasn't mattered as of late, because a strengthening and relatively high-yielding dollar has dominated markets, stealing the limelight from emerging-market currencies.
"You may see this G-10 carry continue to work to the extent that the long position is the U.S.," said Said Haidar, chief executive officer of Haidar Capital Management. "The place where you get most carry is still in EM, and EM has been a disaster."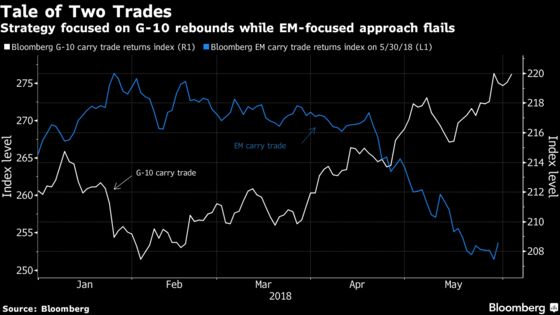 One place investors typically look for carry, or higher yields, is emerging markets. However, over the past weeks emerging markets have been in a meltdown. Additionally, low-yielding haven currencies used to fund the carry trade, such as the yen, strengthened during the recent political turmoil.
Nevertheless, the greenback's rise helped the trade post its best returns of the year a week ago -- just as U.S. Treasury yields descended from nearly seven-year highs. The dollar has gained about 4 percent since the beginning of April as measured by the Bloomberg Dollar Spot Index.
"This is all about the dollar basically," said Alan Ruskin, co-head of FX research for Deutsche Bank Securities. Among G-10 currencies, "this is an unusual world where the dollar is the only currency with any carry."
Bloomberg's G-10 carry trade index measures the cumulative total return of a buy-and-hold carry trade position that is long the three highest-yielding G-10 currencies, fully funded by short positions in the three lowest-yielding G-10 currencies. U.S. 3-month Treasury bills offer a yield of about 1.9 percent, around comparable rates for Australia.
The potential returns for the trade don't necessarily mean investors are confident once again in the strategy.
"Within the G-10, yeah, there's some carry opportunities, but it seems like they're more skewed towards the U.S.," said Jack McIntyre, a portfolio manager for Brandywine Global Investment Management. "If the data turns a little more positive in Europe I think that will go a long way towards investors embracing the carry trade."
Earlier this year the carry trade was in a poor state. Bank of America Corp. analyst Alice Leng even recommended investors pursue a reverse carry trade amid a weakening dollar and surging funding currencies.
However, the recent bout of trade threats and European political turmoil has boosted the greenback.
That dollar strength creates opportunities both for carry, or for taking advantage of volatility to make other bets.
"I certainly would not say generically speaking the carry trade is back," said Zach Pandl, co-head of global FX strategy at Goldman Sachs. "This is a very simple thing, what has happened is that the dollar is now a high-carry currency and it has done well."
--With assistance from Alexandra Harris.
To contact the reporter on this story: Ivan Levingston in New York at ilevingston@bloomberg.net
To contact the editors responsible for this story: Benjamin Purvis at bpurvis@bloomberg.net, Jenny Paris, Mark Tannenbaum