Turkey Is Said to Be Ready to Hike Rates If May Inflation Rises
(Bloomberg) -- Turkey is prepared to raise interest rates again if inflation accelerates, according to two money managers who met with Turkey's central bank Governor Murat Cetinkaya and Deputy Prime Minister Mehmet Simsek in London Tuesday. The lira extended its advance.
Further tightening will depend on May inflation data to be released on June 4 and the nation won't resort to introducing capital controls, the people cited the officials as saying. They asked not to be identified because the meetings were private. The lira rose 0.9 percent to 4.5420 per dollar as of 8:18 p.m. in Istanbul.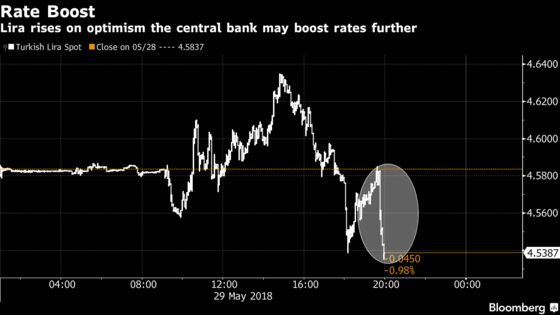 The meetings come as part of a charm offensive by Turkish officials, after the nation's double-digit inflation and twin deficits put the lira at the center of an emerging-market selloff, setting it on course for its worst month in about a decade. In less than a week, the central bank boosted borrowing costs by 300 basis points at an emergency meeting and announced it will revamp its interest-rate system as the nation attempts to stem a run on its currency.
"Inflation is widely expected to accelerate," said Win Thin, the New York-based head of emerging-markets strategy at Brown Brothers Harriman & Co. "Personally, I think they should hike again on June 7. If they don't, then they lose credibility after that story. Another 300 basis points would be a strong statement."
The Turkish central bank couldn't be reached for a comment by phone or email outside of regular business hours on Tuesday. Simsek's office couldn't be reached by phone for comment outside of regular working hours.
The lira has weakened about 4 percent since Erdogan said in a Bloomberg TV interview that he intends to tighten his grip on the economy and take more responsibility for monetary policy if he wins the country's June 24 election.
--With assistance from Onur Ant.
To contact the reporter on this story: Selcuk Gokoluk in London at sgokoluk@bloomberg.net
To contact the editors responsible for this story: Dana El Baltaji at delbaltaji@bloomberg.net, Alex Nicholson