(Bloomberg Opinion) -- The videoconferencing app Zoom has been one of the standout business successes of the Covid-19 pandemic, as millions of people around the world have been compelled to work and socialize from home.
Research for Bloomberg Opinion by Apptopia indicates that, since early March, Zoom's downloads have dwarfed competition from well-established players such as Google, Microsoft and Skype.
However, Zoom's meteoric rise arrived with a constellation of privacy and security concerns — not least "Zoombombing," in which hackers hijack video calls to harass and abuse users.
It remains to be seen if Zoom can overcome these issues to secure a stable foothold in an increasingly lucrative market, or whether Covid-19 will prove the app to be a flash in the pan, discarded when the crisis has passed.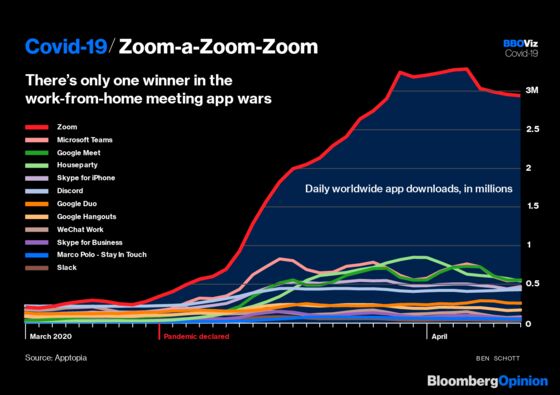 This column does not necessarily reflect the opinion of Bloomberg LP and its owners.
Ben Schott is a Bloomberg Opinion visual columnist. He created the Schott's Original Miscellany and Schott's Almanac series, and writes for newspapers and magazines around the world.