(Bloomberg Opinion) -- Winnebago Industries Inc., the company best known for recreational vehicles, sees a bright future in pontoon boats. 
The company announced on Tuesday that it's buying Barletta Pontoon Boats for as much as $320 million. The deal comes after interest in boating and other outdoorsy pursuits exploded during the pandemic as people sought alternative activities to shuttered indoor and other events or took advantage of more flexible working arrangements. Sales of new pontoon boats jumped about 17% in 2020 from the year earlier, according to the National Marine Manufacturers Association. The vessels are versatile, family-friendly and usually a less expensive option, making them particularly popular among new boating enthusiasts.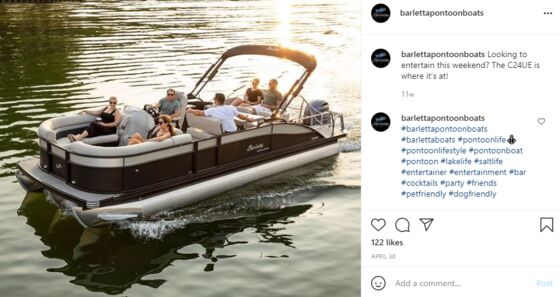 "We don't believe it will be a short-term pandemic lift," Winnebago Chief Executive Officer Michael Happe said in an interview with Bloomberg News's Kiel Porter and Liana Baker. "We are bringing new customers into these lifestyles." The company already owns luxury boat maker Chris-Craft, which it acquired in 2018.
Even as pandemic restrictions are lifted around the world, boat demand continues to grow. Barletta expects to more than double its 2020 earnings before interest, taxes, depreciation and amortization this year and boost sales by almost 80%. Winnebago's offer values Barletta at a higher multiple of future Ebitda than it itself commands -- even after an equally robust demand boom for RVs during the pandemic.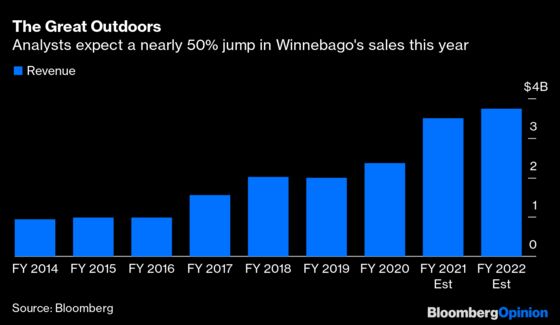 It remains to be seen if Americans' zeal for boats will have staying power. Boats require regular upkeep and you also need somewhere to put them when they're not on the water. The overall cost may become untenable as consumers start spending on travel, restaurants and other services again. Winnebago is providing itself with some downside protection: The company will pay $255 million in cash and stock upfront for Barletta but it's holding back $65 million of potential additional payments and making those contingent on Barletta hitting certain performance milestones between this year and 2023. 
The pandemic has caused many people to reevaluate their priorities. There are worse ways to spend your time than cruising around a lake on a pontoon boat. 
This column does not necessarily reflect the opinion of the editorial board or Bloomberg LP and its owners.
Brooke Sutherland is a Bloomberg Opinion columnist covering deals and industrial companies. She previously wrote an M&A column for Bloomberg News.