(Bloomberg Opinion) --  "I had to get out of America. It has gotten so ugly, so dark and my pessimism had grown so high that I needed to do something different."
That's how pollster Frank Luntz, currently a visiting fellow at the Center for Policy Studies, explained his decision to spend a summer in Britain studying the political landscape. 
Brexit aside, Britain may seem like America's calmer, cooler cousin. But peel back the veneer of civility and there is anger seething under the surface, Luntz's polling indicates. There is also disappointment and mistrust — both toward politicians and business leaders. At best, these currents could shift political winds and decide elections. At worst, Luntz worries they could undermine democracy itself.
His survey  of British voters serves as a warning to Britain's political leaders. Britons aren't as divided as Americans when it comes to what they value, but they are certainly as polarized on policies and priorities, and that has consequences. Choose divisive political language — in other words, continue to stoke the culture wars — and there's no telling what will happen. 
The finding that should worry politicians most is that only 27% of respondents felt their country was invested in them. And the big divide here wasn't north-south or left-right but the yawning gap between urbanites and those in suburbs and towns. When asked if they are invested in Britain's future, 53% of urban residents said they were, compared with only 38% of those living in towns or farms.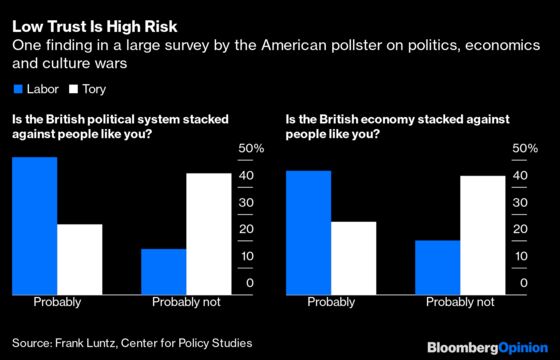 "I think the inflection point is coming in a matter of months," Luntz tells me. Lockdowns, school closures and other changes have exacerbated many long-festering inequalities in Britain.
Culture warring, for lack of a better term, is the ultimate renewable energy source in politics: It comes cheap and can be harnessed and deployed as needed, as long as there is inequality and grievance. Appealing to certain core values (e.g., support for the National Health Service, fairness) and stoking fears (immigration) helped drive the Brexit vote, bring Boris Johnson to power and win him re-election in 2019.
Now both Johnson and the opposition Labour Party are trying to frame the debate over inequality in cultural terms. One recent bit of fodder was a Parliamentary Education Committee report last month that focused on "the forgotten" — White working-class pupils who consistently underachieve in education. Its main line was that terms like "White privilege" aren't reflective of this reality and only alienate those living it (a great many of whom happen to be recent converts to the Conservative electoral cause).
The problems are real enough. The study notes that the proportion of White pupils on free school meals who go on to higher education was the lowest of any ethnic group except Irish travelers and Gypsy or Roma minorities. And while 67% of Chinese pupils eligible for free school meals (FSM) meet the expected standard of development, only 53% of FSM-eligible White pupils do. Indian, Black Caribbean and Black African pupils all do better as well.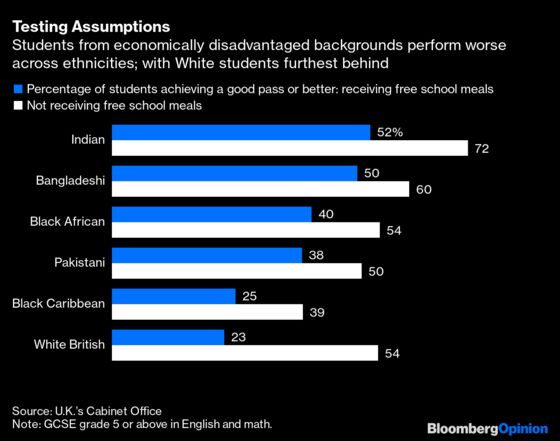 The picture on racial disparities, however, is complex. Ethnic minorities suffered disproportionately during the Covid crisis because they were more likely to be key workers on the front lines, live in crowded accommodation or be medically vulnerable. Discrimination in the policing and criminal justice system is well documented. 
A separate report, published last month by the Institute for Fiscal Studies shows that the second-generation children of minority immigrants outperform in education, but tend not to do as well in the workforce. Much of the gap disappears when you account for education and social class, but the findings suggest discrimination remains.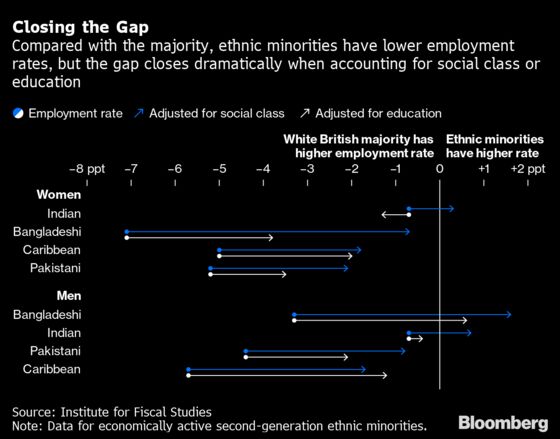 Broken down into its components, it's clear that the three-letter word missing in Britain's culture wars is "and." The issue of inequality is too complex to reduce to injustices or hardships suffered by one segment of the population. There are both deep problems in White working-class communities (some of them the result of underfunding of local government and public services) and a need to protect minority interests and counter discrimination. 
So far, Britain's culture wars don't look as destructive as America's. (Even the new right-wing TV channel GB News, a sentinel against wokery, hasn't made big waves.) But Luntz thinks they could get there, and fast.
If you were looking for signs of a coarsening lately, they're a dime a dozen. There was the nastiness in the recent Batley and Spen by-election (the seat of the murdered Labour MP Jo Cox was won by her sister, Kim Leadbeater), the harassment of Chief Medical Officer Chris Whitty and that of BBC journalist Nick Watt, to name a few recent incidents. The combination of widening inequalities due to the pandemic, an identity crisis within the opposition Labour Party, and Johnson's unique ability to craft messages that strike an emotional chord all make for a heady mix. 
If Britain is to avoid the twin extremes Luntz outlines — a left-driven woke-ism that alienates many White voters, and a right-driven populism that ignores racial inequality and harps on exaggerated threats — Johnson will need to acknowledge where the problems lie, not play voter groups off against one another.
"Acknowledge that inequality exists and seek to alleviate it by bringing people up rather than taking people down," says Luntz, who once dispensed advice to the ultimate take-down man, Donald Trump. But with the Labour Party weak, tough spending decisions ahead and no election on the horizon yet, Johnson may find the culture card plays to his strengths as a campaigner and wordsmith.
I tend to think that engrained values of civility and decency go a long way toward keeping Britain on the right side of a breakdown over culture. The sense of community in many working-class British towns and a rock-solid public consensus in support of the NHS may also provide some antibodies against the ills America is going through.
It's when voters feel sidelined that politics becomes unpredictable. "I'm a big fan of 1776, the play," says Luntz. "And I feel like John Adams, toward the end when he sings out in the chamber, 'Is anyone there, does anyone care, does anyone see what I see?'"
For now, the answer seems to be no. The English soccer team at the Euros has created at least a temporary feeling of unity; there is relief at the impending unlocking and boredom with Brexit-related woes. But that doesn't mean Luntz is wrong to worry — and to warn. 
The survey consisted of two polls of 1500 interviews each, taken between June 19 and 24 across the U.K. except Northern Ireland, with demographics modeled to reflect the turnout of the 2019 election.
This column does not necessarily reflect the opinion of the editorial board or Bloomberg LP and its owners.
Therese Raphael is a columnist for Bloomberg Opinion. She was editorial page editor of the Wall Street Journal Europe.