Which Bank Will Dare to Finance Alabama's Prisons?
(Bloomberg Opinion) -- Alabama just won't give up on selling bonds to finance prison projects.
In April, Barclays Plc backed out as lead underwriter of a large municipal-bond deal for two Alabama prisons owned by CoreCivic Inc., a giant in the private-prison industry. It really had no excuse for the drama: The bank had previously pledged to no longer provide new financing to such companies and seemed to try to use the state's role as a workaround. Soon afterward, Stifel Financial Corp. said it was no longer involved. By September, the state's corrections department terminated its 30-year lease with CoreCivic, and lawmakers advanced a plan to use federal aid to build the new facilities.
The state and the Alabama Corrections Institution Finance Authority are still hoping to sell up to $785 million in bonds as well. The only snag: They need to find an underwriter that won't cave to potential pressure from activists. So Alabama is asking for unusual assurances from banks' senior management.
Here's Bloomberg News's Amanda Albright, who has reported on this saga all year and obtained a document through a public records request:
The document asks respondents to detail how they would market the bonds "considering the result of the design-build-financing sale earlier this year and the overall trend of investors consciously moving away from supporting the infrastructure of prisons." 

"Please discuss whether your firm has, or has had, any prohibition from participating on financings related to prisons (public or private)," the state asked. "What assurances, or certifications will your firm's senior management provide that it will not pull out of the financing should investors campaign against your firm from serving in the capacity of underwriter?"

The document also asks for underwriting firms to detail the experience they have with underwriting bonds sold for correctional facilities.

The responses to the request for proposals won't be available until after the contract is awarded, Jacob Harper, a lawyer for the state's finance department, said in an email.
Set aside for a moment the potential public relations headaches from financing the prison industry in Alabama, which was sued by the U.S. Department of Justice in December 2020 for failing to protect male prisoners from violence and unsanitary conditions. If Barclays backed out, it seems reasonable to assume that the largest national investment banks won't touch the deal either, even if Alabama is no longer contracting with CoreCivic to build and own the facilities. So who does that leave, exactly?
Fortunately, Bloomberg compiles municipal-bond underwriting data by state. Here's the breakdown for Alabama in 2021: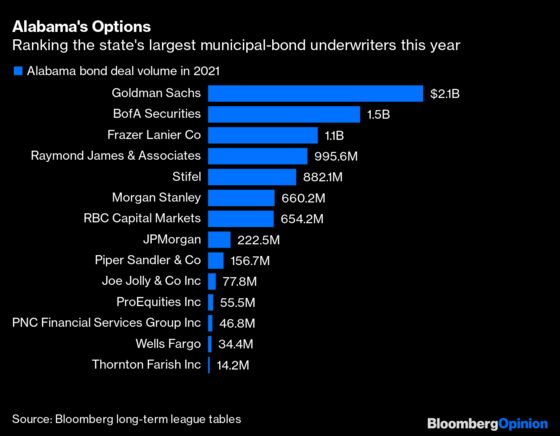 That doesn't leave many contenders to push through that potential $785 million bond deal. Goldman Sachs Group Inc. and Bank of America Corp., the two biggest underwriters in the state this year, rank No. 6 and No. 1 nationwide, respectively, and likely have enough business to sit this one out. Morgan Stanley, RBC Capital Markets and JPMorgan Chase & Co. weren't nearly as big in Alabama in 2021. They could probably scale up, given they all rank among the top five U.S. muni underwriters, but, again, there's no urgency to go out on a limb for this. Stifel already backed out once. Joe Jolly & Co. and Thornton Farish are both located in Alabama but don't seem to have the size needed for this undertaking. 
The investment bank that sticks out is Frazer Lanier Co. Based in Alabama's capital, Montgomery, it also has two other offices in the state, and almost every one of the 65 bond deals it has managed this year has been for an Alabama borrower, according to data compiled by Bloomberg. The sales aren't gigantic — the biggest was a $169 million offering from the city of Decatur — but they're frequent and local enough to amount to $1.15 billion, suggesting it could have the bandwidth to work on the prison financing. 
"Our employees are dedicated to maintaining the highest ethical standards in their work," the Frazer Lanier website says. "Our firm believes that we have a responsibility to the community where we work and live." One of the men's prisons financed by the bond sale would be built in Alabama's Elmore County, immediately north of Montgomery; the other would be in Escambia County, on the border with Florida.
Phone and email messages left for Robert Young, president of Frazer Lanier, weren't immediately returned. A spokesperson for the state's finance department didn't respond to Bloomberg News's request for comment about the state's ability to secure lenders or how many banks had responded.
State officials, for their part, say the new facilities will improve prison conditions and better protect inmates. Remarkably, the request for proposals also asks for views on whether the debt could be marketed as "social bonds," arguing that the goals of construction are to provide better health care and educational services, therefore benefiting society and justifying the label. That seems destined to make an already tough sell only more difficult.
It's possible that removing the direct link to a private-prison operator will make more underwriters willing to work with Alabama. As a CoreCivic spokeswoman said in April, by scuttling the original deal, activists "are in effect advocating for outdated facilities, less rehabilitation space and potentially dangerous conditions for correctional staff and inmates alike." There's a reasonable argument to be made that choking off this kind of funding isn't a straightforward solution to improving the U.S. criminal justice system.
Still, that's a precarious path to tread for investment banks that are willing to go to great lengths to avoid bad publicity. After months of scrutiny in the press, prudence would suggest the likes of Goldman and Morgan Stanley pass on the opportunity. But the prospect of fee revenue on a large amount of bonds will inevitably be too alluring for all investment banks to pass up, even if it's for prisons. The question: Which senior management team is confident enough to assure Alabama that it'll see this through to the end?  
This column does not necessarily reflect the opinion of the editorial board or Bloomberg LP and its owners.
Brian Chappatta is a Bloomberg Opinion columnist covering debt markets. He previously covered bonds for Bloomberg News. He is also a CFA charterholder.